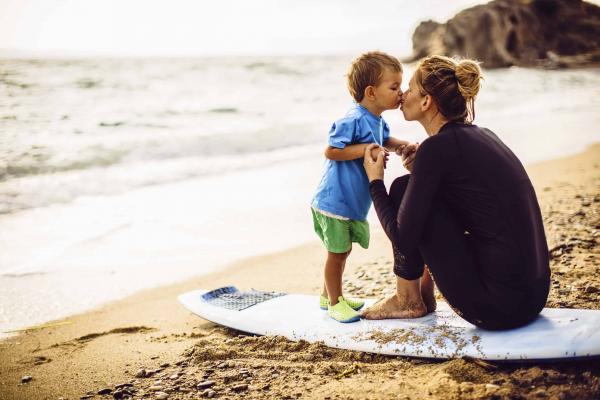 Travel isn't just for single people or those who are independently wealthy. When you're savvy with your money and know how to travel smart, any family can enjoy a fun vacation without breaking the bank. These tricks are so simple, you'll wonder why you don't travel more often.
Look for last-minute deals
Have you ever wanted to try a cruise? You have two options for getting good deals: Book your cruise a year ahead or last-minute. Cruises try to make sure every room is filled, so watch for prices to dip 60 to 90 days before a sailing, according to cruisecritic.com. Last-minute deals require a degree of flexibility, of course, but can save you money while providing a quality vacation experience.
Airlines offer last-minute deals sometimes, too. The best way to hear about them is to sign up for airline newsletters that will alert you when new deals arise.
Travel in the offseason
If your kids are young or you don't mind them missing some school, the cheapest time of year to travel is the offseason, which tends to be between October and April. The weather might be a little more unpredictable during these months, but according to ricksteves.com, "You'll get cheaper airfare, find more budget rooms, spend less time in lines, and meet more [locals] than tourists."
Take public transportation in big cities
Give yourself a break and don't try to drive yourself around a big, unfamiliar city, especially if you're in a country where you drive on the opposite side of the road. Take buses, subways, trams, streetcars, monorails or whatever combination is available in your chosen location. Maps should be available to show you where you are and what stop is coming up next and local passengers can give you advice on nearby entertainment and food choices.
Buy a week's transit pass
If you're planning on being in town for several days, you'll find it's cheaper to buy a week's pass to hop on and off the city transit as often as you want, rather than paying one trip or one day at a time. However, if you're planning on heading out of town and there are several people in your group, you may find it's cheaper to rent a car than to pay four separate train tickets to and from a several hour distant location.
Split your entrée
Most of the time, restaurant entrées offer more food than a person really needs. Cut your cost in half and buy a single entree to share between two people, or get an entree and a small appetizer and you'll still save money. Skip dessert and order tap water to save even more.
Country hop with short flights
Did you know in Europe short flights can cost less than $40? For instance, a flight from London to Paris is just $37 (American dollars) on easyjet.com. This and other websites offer cheap flights if you'd like to hop between multiple European countries and don't want to rent a car. Keep in mind, though, that checked baggage costs extra, so try to travel light.
Take free walking tours
You can find free walking tours in just about every big city. Just Google "[City's name] free walking tours" to see when and where the tours start. Tour guides do generally accept tips, so take along some cash to show your appreciation.
Try house-sitting
Did you know you can get free lodging by house-sitting? You'll usually have a few duties, like walking the dog and keeping the house plants alive, but in exchange you'll have a house to yourself and the unique experience of living like a local in a foreign locale. Verge Magazine recommends house sitting websites like mindmyhouse.com and housecarers.com to help get you started.
Take the road less traveled
Some vacation spots are less well-known but that doesn't mean they aren't worth a visit. Choosing a location with fewer tourists means less competition for available lodgings, less "tourist trap" entertainment, and more authentic experiences. Time.com suggests places like La Paz, Mexico (instead of Los Cabos); Dublin (instead of London, England), and Palm Springs, California (instead of Los Angeles).
Now you should be ready to plan your vacation. Which of these tips are you going to try the next time you travel?