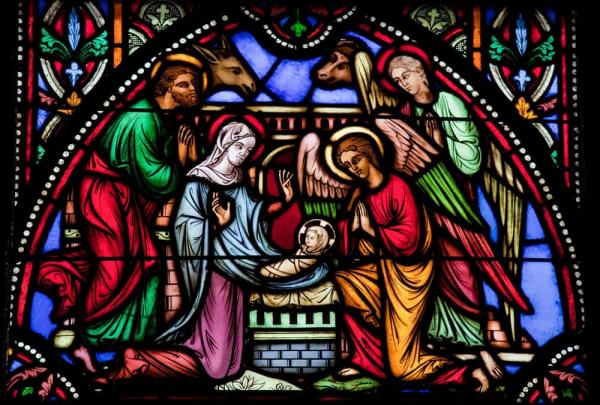 Christmas is the most magical time of the year, but with all the parties, gifts, trimmings and flashing lights, it's all too easy to get caught up and forget the reason for the season. Here are some tips to help you and your family put Christ back in Christmas.
1. Find ways to serve as Christ did - without using money
Whether you're rich or poor, you can make a difference in the lives of others. Simple things like donating blood, serving food at the local soup kitchen or shoveling the neighbor's walk can mean a lot.
2. Hang a stocking for Christ,
but instead of filling it with gifts, have each family member write his or her feelings about the Savior, and put the notes in the stocking to be read on Christmas morning.
3. Study the Gospels
During the month of December, read a chapter from one of the four Gospels every morning. As you relive the stories of Jesus Christ's ministry, you will set the tone for the rest of the day.
4. Participate in Sub for Santa
This is especially beneficial to young children, many of whom have never known want or hunger. Discuss with them why it's important to put others first at this time of the year.
5. Give the Savior a gift
As you celebrate the birth of Jesus Christ, discuss with your family what sort of gift each of you could give to Him this year. Maybe your gift could be a little more time praying or giving up a bad habit. Discuss with your children what Jesus wants from us.
6. Invite someone to share Christmas dinner with you
Perhaps there are elderly people in your neighborhood who have been neglected by their adult children, or maybe there's a young couple struggling through school who can't make it back home for the holiday. Inviting them to share in your family's joy will make Christmas memorable for everyone.
7. Allow your children to tell the Nativity story
Invite each family member to tell the story of the Nativity in his or her own creative way - through art, music, drama or simply by reading it. This will allow your children to learn the story and express their feelings about it in ways that make sense to them individually.
8. Teach your children the real story of St. Nicholas
A son of wealthy parents who died when he was young, the original St. Nicholas used his entire inheritance to help the needy, striving his whole life to live the teachings of Jesus Christ.
9. Teach your children the symbols of Christmas
Stars, bells, angels and even mistletoe all have a symbolic meaning that can be tied back to the life of Jesus Christ. As you discuss these symbols with your children, the season will have new meaning as you see these things throughout the month.
This Christmas, help your family remember to celebrate the birth of Jesus Christ by making Him a central focus in your celebrations. As you do this, you will find more peace and love in your family than you ever have before.