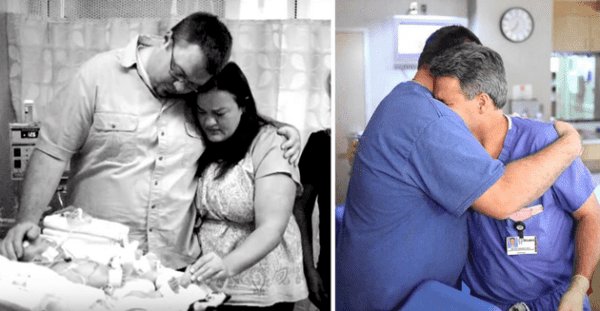 A hug expresses feelings that can't be said out loud. This photo of a hug between a doctor and new dad went viral because of the message of hope that came with it.
This photo was taken by Sarah Ledford, a maternity photographer. It was captured after the doctor brought a baby into the world. The picture on the right is an embrace of relief, happiness and excitement, while the one on the left is filled with sadness. Just ten months before the photo on the right was taken, the couple in the photo on the left had lost their baby in the delivery room.
A tragedy
According to Today, the photo was taken at St. Luke's Hospital in Idaho. Just ten months earlier, Andrew and Amanda went there to give birth to their first child, Klayton. They struggled with fertility for quite some time and had gone through treatments, so they were thrilled to finally bring a precious soul into the world.
When it was finally time for Klayton to enter the world, the doctors realized the baby wasn't breathing.
He didn't cry
The team of doctors sprung into action when the baby didn't cry. I can imagine how that mom felt when she didn't hear her baby, because I didn't hear mine at first either when she was first born. I couldn't breathe until I finally heard her cry.
This baby couldn't breathe, and therefore, couldn't cry. He had sucked in meconium (the earliest stool from a baby). The doctors finally succeeded in resuscitating him, but it was too late. Baby Klayton had spent too much time without oxygen, and was brain dead. Six days later, Klayton died along with his parents' smiles.
According to ABC, this was Dr. Hodge's first patient loss - he'd been delivering babies since 2002.
The couple didn't give up hope
Amanda and Andrew were heartbroken, but they refused to give up hope. They decided to focus on bringing another baby into the world, and less than a year later they were back in Dr. Hodge's office because Amanda was pregnant again.
She gave birth to a healthy baby boy named Karson. Amanda said, "Right up to the moment he came out, I was scared that something bad was going to happen." However, Karson cried loudly, announcing his healthy arrival to everyone.
Embracing light after tragedy
Everyone was so excited when the umbilical cord was cut and they officially welcomed Karson into this world. Both the Hanson family and the staff at the hospital will never forget this story of tragedy and hope.
This article is adapted and translated from the original "Un bebé muere en la sala de partos, meses después el mismo doctor rompe a llorar ante un milagro" which was originally published on familias.com.