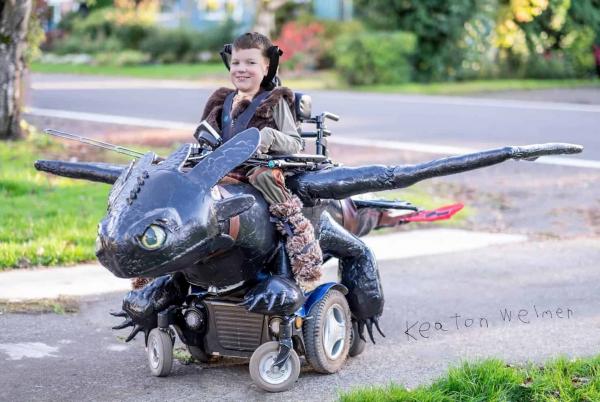 Keaton Weimer spent Halloween last year riding down the streets on a dragon that cost between $2,000 and $4,000 dollars and took more than 120 hours to make. Now Keaton and his family, who have three children with muscular dystrophy, have made it possible for five other children like Keaton to have their own magical Halloween costumes through a kickstarter fund.
It all started when Keaton was three and wanted to be a pirate. His dad, Ryan, thought a pirate riding in a wheelchair wouldn't do, and Pirate Keaton soon had a wheelchair-turned-boat to ride in.
This past summer, the Weimers led a wildly successful kickstarter to fund costumes for other children. Ryan said he thinks it is important for children in wheelchairs to have a better than average Halloween costume, since they deal with so many difficult things day-to-day. It is because of this that he launched this project.
"It becomes more than just a chair," Ryan said. "It's a transformer or a dragon."
The Weimer's project has been turned into a non-profit group called the Magic Wheelchair. They allowed children interested in having an epic wheelchair costume to turn in a video application. Below you can see the sweet video of one of the winners, Jade who will now get to be a speedboat from SpongeBob (who she loves) thanks to the fundraising.