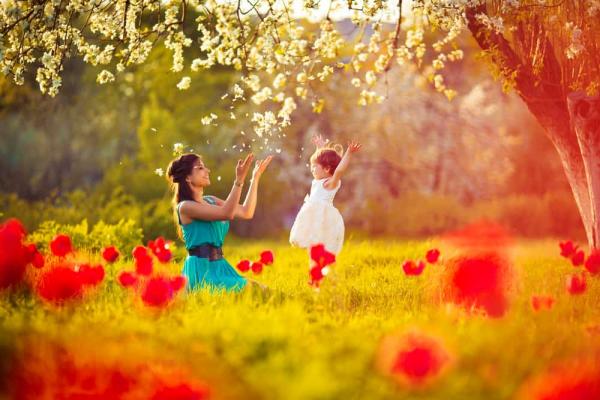 Building a lifetime relationship with your daughter begins from the moment she takes her first breath and screams at you for the first time. Okay, maybe not at you, but she immediately begins asking for food and love. Feed her, love her and grow a lifetime relationship.
As a mother and daughter writing team, we love working together. We want to share some of our ideas, experiences and ways to build a lasting mom daughter team with you.
Before we share all the fun things you can do, we want to tell you a little story. Shannon has four daughters. As they grew and moved away, one night she got a call from one of the girls, "Mom..." and then the sobs of crying rang through the phone. In minutes she'd heard enough. She got in her car and drove hundreds of snowy miles to be with her girl.
Why do we start out a list of fun things to do with a sad story? Because you will have many calls as a mom, and when the chips are down every mother wants her daughters first call to be to her mother. Building a relationship now will make sure you are your daughters first call.
Build an unbreakable relationship with your daughter by listening, spending time together and planning for fun. Here are a few ideas to get you started.
Fun ideas for mothers of baby girls:
Play dress up. Dress up and go out! Don't be shy. Tutus and tiaras are perfect. Don't forget pics!
Start a scrapbook and make a joint journal including handprints.
Karaoke. Sing and dance on video for timeless fun.
Fun ideas for mothers of pre-teens:
Read a chapter book together over cookies and juice (Tea party style). Take your daughter to meet her favorite author. Or, dress up like the characters in the book and act out a scene for dad or grandma.
Five dollar dinners. You each get a 5 dollar bill. Go to the store and pick out whatever you want for dinner. You might end up with chilli and jello. Not only will you laugh, but it can become a fun cooking lesson.
Dance together. Turn on the music and let loose with some moves!
Fun ideas for mothers of pre-teens:
Rite of passage. Have a special night when all the older women in the family , or adopted family, welcome your daughter at her twelfth birthday into the secret club of women. Celebrate that she is growing up. All my daughters got a card and a call from Grandma welcoming them into the club. Write out a list of special privileges for "big girls." She no longer has to sit at the kids table, she gets an extra hour before bed. She no longer has to order off the kids menu and she can pick out her own clothes. Fun things that tell her you trust her, respect her and that growing up is fun. Make her feel special.
Take a class. Learn yoga or to arrange flowers together. We took a surfing lesson.
Culture and curls. There are often free local performances or coupons for ballets, operas, plays and other events. Dress up when you go and talk about the performance. You don't have to like everything, just try a taste of a little culture.
Fun ideas for mothers of teens.
Spa day or pre-prom prep party. Having four girls buying prom dresses was a serious challenge. We started having pre-prom parties where the girls and all their friends brought their dress collections over, swapped dresses, painted toes, did hair and more. The pre-party was the funnest part of the day.
Choose a cause. Volunteer or fund raise for a cause you both care about, like the local animal shelter. Do secret service acts for family or neighbors as a team.
Support her activities. For me this meant going to a week-long girls camp. It meant a year of meetings planning a musical event held in the woods. The bonus came when I was the cool mom and she saw me through her friends eyes. These events have huge payoffs.
Plan an unforgettable party. We planned a masquerade ball based on the movie, "The Phantom of the Opera." We cleared the floors, borrowed DJ equipment and lights, ran a fog machine, put televisions on mute playing the movie all over the house and had food everywhere. The invitations were written on CD's of the song "Masquerade."
Queen for a day. Have a "fun purse." When the fun purse is full go to lunch together and spoil your daughter rotten. You will have fun filling the purse, she will learn to budget her fun when the fun lasts as long as the purse is full! Take turns being Queen and making the plan.
Plan a yearly trip together. You don't have to go far, but can have so much fun exploring new places together.
Make traditions. Pick her up for lunch on the first friday of the month or see sappy movies together when they come out.
Fun ideas for young adult mothers and daughters:
Learn for a cause. Learn to knit together so you can make newborn hats for the hospital preemies. Or, learn to sew simple blankets for the homeless shelter. Service brings us together.
Make a regular day together void of children. As fun as grandma can be, the new young mother needs a break at times.
Find a hobby together. Family history can be great fun with a daughter, she get's to learn things she never knew and you get to pass on family stories.
No matter how simple or elaborate your activity may be, coming together as a mother and daughter can bring great joy to both of you. Find a way to connect and watch that connection grow through generations. Be the one she calls when she needs love.