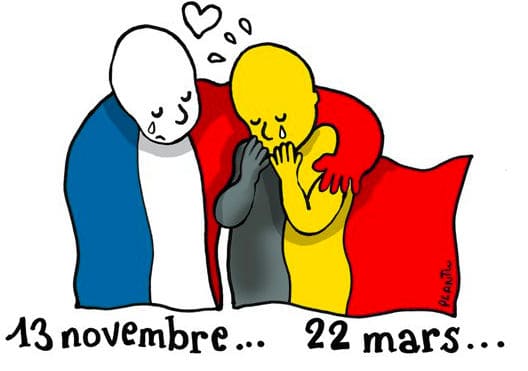 A wave of terror attacks struck the city of Brussels, Belgium, Tuesday morning, as three explosions both in an airport and in a subway station killed close to 30 people and left another 80 injured.
The first explosions occurred at the Brussels Airport in Zaventem, where an alleged suicide bomber killed 11 people and injured 81 more, according to BuzzFeed News. A similar attack at a subway station killed another 20 people.
Early morning reports also said that at least three Americans were injured in the attacks, all of whom were missionaries for the Church of Jesus Christ of Latter Day Saints.
Since these attacks, Belgium has gone into lockdown. Flights to and from the country have been cancelled, while subway, bus and Eurostar transportation methods were also temporarily shut down, BuzzFeed News reported. The country also evacuated two nuclear power plants, according to CNN.
Belgium has also asked people within the country not to stream music or videos so the country's Internet won't be slowed down, Mashable reported.
President Barack Obama spoke about the situation on Tuesday morning, pledging support from the United States.
As officials search for more information about the attacks, the people of Belgium, Brussels and the world at large have made efforts to show solidarity, unity and grief for the lost lives, mostly through the interconnected world of social media.
People showed unity immediately after the crisis on Tuesday morning in Belgium by writing messages on the streets pledging for peace. They specifically wrote messages calling for peace and prayer outside the Plac de la Bours, which is the home of the city's stock exchange.
Social media users also shared a number of cartoons and drawings to show support for Brussels. One of the bigger posts came with the phrase "Pensees Pour Bruxelles et toute la Belgique," or "Thoughts for Brussels and Belgium."
Cartoons have also made an impact across Belgium Tuesday morning. For example, the comic book character Tintin - which "has long been a symbol of Brussels and a national hero in Belgium," according to Vox - made an impact on the city streets and across social media, acting as another symbol of solidarity for those in the country.
The comic character, often shown in museums and murals across the world and in Belgium, was shown crying for his city and country in the wake of the attacks, Vox reported.
These attacks come just months after a wave of shootings in Paris, which left at least 130 dead and close to 360 injured after gunmen opened fire across a soccer stadium, a concert venue and outside of a restaurant in Paris. There were reports at the time that these terrorists - later revealed to have worked for ISIS - would target Belgium as well.
To show solidarity between the two suffering countries, French cartoonist Plantu published some drawings for the French news site Le Monde on Tuesday morning. The set was titled "Les Attentats de ce 22 Mars à Brussels," or "The Victims of March 22 in Brussels."
The image has been shared over and over again on both Instagram and Twitter.
The hashtag #JeSuisBruxelles (I am Brussels) also trended on Twitter worldwide Tuesday morning. This is reminiscent of the #JeSuisParis hashtag that went viral after the Paris attacks.
As more information comes out about the Brussels attacks, experts and officials will likely look to the Paris attacks for answers about how to find the attackers and for ways to help people heal.
One way may be through music. As Marie Trout of The Daily Beast wrote Monday night, a boy named Daniel, who was shot twice during the Paris attacks last November, used blues music to help handle his grief.
Specifically, Daniel listened to Walter Trout's album "Battle Stars," in which the singer spoke of his own recovery. Listening to the music, Daniel found comfort and healing.
He said, according to The Daily Beast, that people can act on a local level to help their communities heal and survive after massive tragedies. It's not just grand measures taken by governments and organizations that can aid the world.
People - like those who draw cartoons and spread positivity in wake of a tragedy - can do so, too, he said.
"Role models like Daniel and his family demonstrate that it is possible to act with courage, no matter what happens: to stay true to these self-evident democratic truths and values that we hold so dear," according to The Daily Beast. "It does not in any way mean that we should not effectively root out terrorism where it manifests. Of course we need to do that. It means, however, that we don't have to mistake diversity for danger, strangers for enemies, and reactionary mirages for safety."
For more on terrorist attacks
How to comfort your child after the Turkey and Ivory Coast attacks
How American families are keeping in contact with loved ones after the Paris shootings
How to talk to kids about terrorism