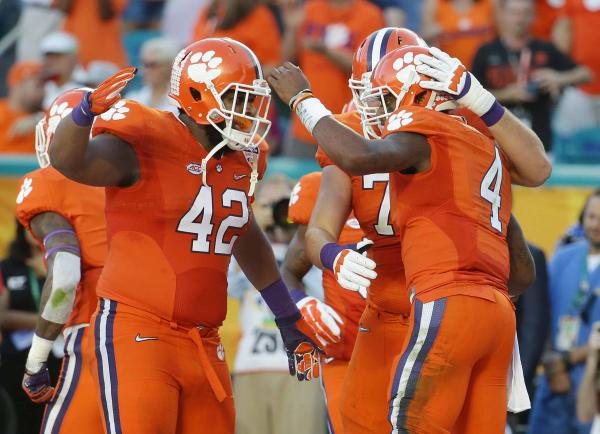 Tomorrow night, college football fans across the United States will get the coveted game they've been waiting for as Alabama and Clemson face off in the College Football Playoff national championship game at the University of Phoenix Stadium in Glendale, Arizona.
For the players, though, this isn't a game centered around winning a national championship and raising a trophy amid a shower of confetti and Gatorade. Rather, it's about honoring God and winning something with the service of their faith.
Many of these college players spoke to the Fellowship of Christian Athletes magazine ahead of tomorrow night's game about how their faith in Jesus, God and Christian values have given them the strength they need to succeed on the football field.
"Jesus' victory upon the cross means I have no excuse to ever give up at anything," Alabama senior linebacker Reggie Ragland said, according to a press release.
Clemson's Roderick Byers, a senior defensive lineman, said something similar.
"No matter what happens, I will always have the victory because of Christ," Byers said. "Whether it's people doubting me or things aren't going my way in a game, I know I can overcome all things because a price has been paid for me. I am who God says I am, and I can do all things through Him."
Byers' teamate, Eric Mac Lain, an offensive lineman, said the verse Matthew 5:14 personally gives him strength every time he takes the field.
"I play with the intent to glorify the Lord on every snap, so that people may see His light shining through me - Matthew 5:14," Mac Lain said in a press release.
Clemson coach Dabo Swinney, who was honored with the FCA's coach of the year award for 2014, said in a press release that the organization helps faithful collegiate athletes find a space to share their values.
"FCA is important because it is on the front lines with our young people spreading the good news about the peace and hope that can only come from a relationship with Jesus Christ," Swinney said.
These athletes are only a few of the Christian college football players who have shared their faith and how it helps their game. Many others spoke to FCA magazine about religion in December and November.
"Every fall, young men around the country strap on their helmets and ready themselves to compete on the gridiron. The opponents are mere obstacles along the way, with the hope of a season culminating with a national title," that issue read, adding, "the pursuit of an earthly victory serves as an act of worship to their Lord and Savior, Jesus Christ."
Faith has played an important role in college football this season, especially for Swinney, who credits his Christian faith and evangelical values as a reason why his Clemson Tigers have had so much success this year, going undefeated.
"Swinney is one of the hottest college football commodities in America," Slate's Michael Weinreb wrote. "And perhaps not coincidentally, in a profession that traditionally lauds piety and conservatism, he may also be the most religiously devout coach in the country."
Similarly, Ole Miss coach Hugh Freeze says his Christian values provide a comfort zone for religious students. That's why he'll sometimes play Christian music during a team meeting, or encourage students to bring their Bibles into the locker room.
College football's faith connections date back generations and is something of a cultural phenomenon. Southerners - often reported to live in the most religious part of the country - are also heavily into football, drawing the two together.
"Nothing says more about a Southerner than the team he cheers on Saturdays and the church he attends on Sundays," The Washington Post reported.
But college football's faithful connection has surely had its critics, with many, including the Freedom From Religion Foundation, wondering if college football teams should interweave faith into their programs, given that school should be a safe space for students.
Swinney told the Associated Press that he hopes his Christian values inspire other coaches to come forth about their beliefs, though, and that critics of religion and football will start to back down.
"As a Christian I hope a light shines through me," Swinney told AP. "I don't want to be persecuted for that and I don't try to persecute somebody else because they have different beliefs."