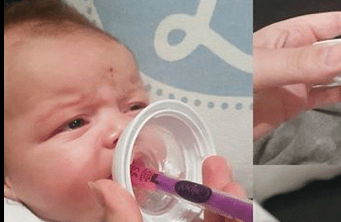 One of the hardest parts of parenting is when your child is sick. Even worse is when your baby doesn't willingly take the medicine that will help them get and feel better, often spitting it out. Not only does this make a mess, but wastes part or all of the needed dose.
One mom shared a brilliant trick she learned to get the medicine in her infant son, rather than him spitting it out all over.
The viral post
Helen Lee shared a photo on Facebook showing how she managed to get her baby boy to take his medicine without the mess. Using a rubber nipple from a bottle, she inserted the syringe filled with his dose of medicine into the nipple. Her son was able to take the medicine without wasting any of it.
She wrote: "FOR ALL MUMMIES...
"So for the last 24hours ive struggled to get alfie to take calpol [British version of acetaminophen], he has ended up covered in half of it where he spits it at me......
"Then i remembered seeing this trick..
"Not 1 bit got wasted...and no tears...
"please feel free to share with any baby mummies you know xxxxx."
Not a new technique
Tricks like Lee used aren't new. Pediatric nurses commented on the post stating they have used this method for years. Other parents have also successfully used this technique before. But, for many parents, it was a new concept.
Some parents shared that they would put the medicine down the inside of their baby's cheek with success.
Regardless, the post has spread to thousands of parents who may benefit from learning this trick. This method likely works because babies are born knowing how to suck, but not how to drink without that suck and swallow motion. Having the nipple in place for the baby to suck on makes it easier for the baby to swallow the medicine rather than spit it up or choke on it.
When your baby is sick, it's important to get necessary medication into their body. When it's an antibiotic, it's even more crucial because missing doses or partial doses can result in the illness not being fully treated and then having a recurrence. If Lee's method works, use it; if not, find one that works for your baby.
Have you tried this method? Did it work for you? Have you tried other successful techniques to get your baby to take medicine without the fuss?