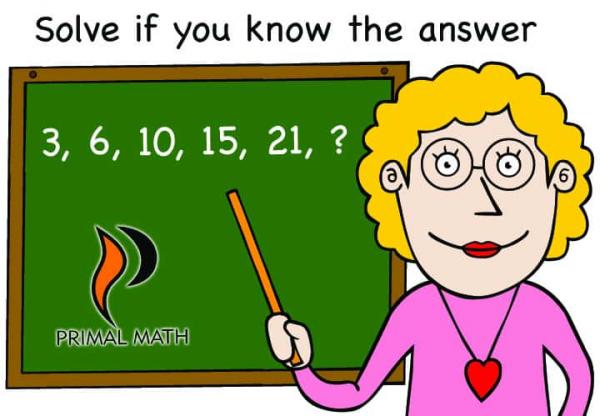 Did you solve it faster than your kids? Check your answers to see how well you did, then share this with your friends.
Click here for more brain teasers from Primal Math
Triangular Numbers
Do you know what a triangular number is? Numbers that fall into this pattern are
3, 6, 10, 15, 21, ???
Answer: 28
Here's how it works (notice the triangle):
3
X
X X
6
X
X X
X X X
10
X
X X
X X X
X X X X
15
X
X X
X X X
X X X X
X X X X X
21
X
X X
X X X
X X X X
X X X X X
X X X X X X
28
X
X X
X X X
X X X X
X X X X X
X X X X X X
X X X X X X X
Spelling Game
Spelling out numbers (e.g. "one, two, three"") how long will it be until you encounter the letter "a" ?
Answer: one thousand
Dirt
How much dirt is in a hole 3 feet wide, two feet long and 5 feet deep?
Answer: there is no dirt in a hole
Birthday
Dennis was born on Halloween, but his birthday is always in the Spring. How does this happen?
Answer: Dennis lives in the Southern hemisphere where Halloween happens in the Spring
Scary Dream
Mr. Wilford was a well-to-do businessman in Philadelphia. One late evening at the office, the nighttime security guard approached him and told him he shouldn't drive to New York the next day because he had dreamed the night before about a terrible car crash Mr. Wilford would be involved in.
Mr. Wilford ignored the warning. There was no accident, and when he returned to Philadelphia the next week, he promptly had the security guard fired. Why?
Answer: nighttime security guards should not be sleeping on the job
Primal Math makes learning a whole lot more fun! Check them out on Facebook:www.Facebook.com/PrimalMath or download their new Zombie Fish Bits app (available in the app store).