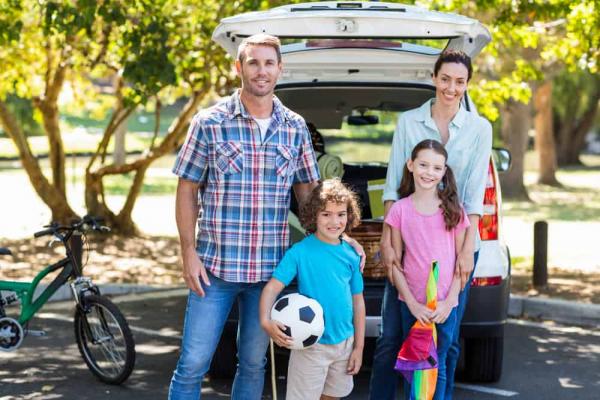 Robert Frost's poem, "Stopping by Woods on a Snowy Evening" ends with the lines "and miles to go before I sleep, and miles to go before I sleep." Could this describe your sentiments when on a road trip with your kids? Traveling with your children can be exhausting. Cries of, "Are we there yet?" and, "He's touching me!" can drive any reasonable adult crazy.
Our family has traveled a lot. With family scattered all across the country, as well as having made several cross country moves, we have thousands of miles under our tires. With five children ranging in ages from 23 down to 6 we have dealt with toddlers to teenagers while on the road - sometimes all at once. Yet, we have maintained our sanity and look forward to road trips. Being prepared and using strategies we have learned over the years keeps us on the road and happy.
Daily Bags
This one we learned years ago when we only had one daughter. A new job was taking us from Utah to North Carolina. Three days in the cab of a moving truck with a not quite 3-year-old was daunting. I decided to create a different bag of activities for each day. That way she would not get bored with the same ones. Each bag contained a book, a treat and a game or crayons. She looked forward to each morning getting the new bag and seeing what was in store for that day.
Road Games
As a child I remember playing the ABC game and the license plate game as we traveled across the country. The ABC game is when each player tries to find the letters (in order) of the alphabet in words on road signs, billboards and other signs. You call the letter and the word you found it in.
The license plate game was simply looking at the plates of the vehicles around you and trying to get all 50 states. It was always exciting if you found Hawaii or Alaska. This can be played together or as a competition.
Spontaneous Stops
Sometimes you need to slow down and do something on the spur of the moment. One summer a friend and I were taking our teenagers to a youth camp several states away. As we were driving we saw signs for Santa Claus, Indiana. We decided, what the heck, we may never come this way again. So we went. The kids loved having their picture taken with the many Santa statues around town and stretching their legs. The spontaneity of it all made it more fun and memorable.
Planned Stops
If you are on a long road trip take time to stop at different places along the route. Breaking it up makes it easier to bear the long distance. When heading to my brother's wedding in Illinois, with four children, we mapped out a route with stops for a day or so along the way there. We then took another route home so we could see more of the country. Our children still refer to this trip as "The Great American Road Trip." We stopped at National Parks, Historic Sites and playgrounds.
It is also important to stop travel early enough for children to enjoy the pool at the motels and just relax. Everyone needs time to unwind after riding in a car for hours.
Sing Along
Put in a CD of silly songs and join in. Our children had certain CDs that they only listened to in the car traveling. You can either purchase some or borrow some from your local library. A new CD would be an excellent item to put in a "daily bag."
Just teaching your children songs you learned at camp growing up can also break up the monotony. We have several songs we have taught our children that they love to sing in the car. And one year our oldest daughter taught her siblings all songs she had learned at a camp just the week before.
Postcard Collection
One way to keep little ones interested in where they are and have been is to let them collect postcards along the way. Inexpensive as souvenirs, you can find them in most convenience stores along the highways. Our daughter still has all of her postcards she has collected over the years.
Journal or Travel Log
Give each child his own hard bound journal or a notebook to record his adventures. This helps develop her writing skills, as well as use her creativity. Have stickers, markers, stamps available to make them more interesting. Also keep ticket stubs from any rides, tours or entry to parks to put in the journal. By the end of the trip they will have a souvenir and record of their trip.
Good Things to Have
As a parent it is always good to have a few extras so the trip can run smoothly. Lap desks are wonderful for little ones who want to color. Also a few travel size games such as magnetic checkers can help keep older ones occupied. Gum or mints are great for small upset tummies. Keep baby wipes, plastic bags and paper towels in case of car sickness. Snacks and drinks (water bottles are great) help keep hunger at bay between meals. Extra maps so kids can follow the route come in handy as well.
Hopefully these tips will help your next road trip be a success. Planning and preparation are all it takes. Then you can sigh with Robert Frost "Two roads diverged in a wood, and I - I took the one less traveled by, and that has made all the difference."