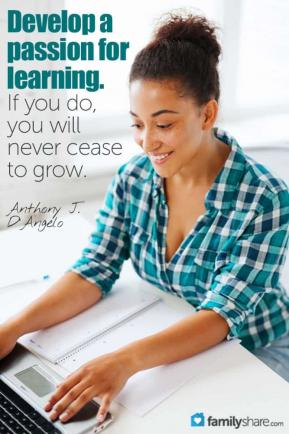 You did it. You got your children off to school with pencils sharpened, lunch boxes packed and new shoes shining. Now it's time to take care of yourself. Don't let the school days pass you by; make the most of your down time by learning something new.
Book club
If reading is your thing, or you'd like it to be, join a book club. If you don't know of one to join, ask at your local library, bookstore or a friend who likes to read. You could also start a book club with your daughter or son, spouse or friend. I've even had a "book club for one," where I read several books by the same author. Reading and discussing books is a great way to get your mind working.
Online courses
If you're serious about learning or finishing a degree, online courses might be right for you. Many colleges and universities offer courses taught completely over the Internet. Some use live classes via Skype and others use pre-recorded lectures you can watch at your convenience. You'll have to do some research and get admitted to work toward a degree, or you can take one or two courses just to learn something new. Brigham Young University offers several free courses through their independent study program.
Community college
Don't discount your local community college as a source for education. Most community colleges offer personal development, fitness, art and cooking classes in addition to more rigorous courses. After looking through recent course offerings, I've decided to take a bicycle maintenance and repair class offered through my local community college.
Learn from a friend
Do you know someone who is an expert baker, organizer, seamstress or gardener? Ask for help learning a new skill. Most people enjoy sharing their talents with others. Getting together with friends to learn something new is satisfying on many levels. I've learned to quilt, bake and make specific crafts this way.
Parenting classes
Most professionals have to take courses to keep up their licenses and skills. I consider my mothering to be my current career, so I look for ways to improve and learn. Community centers often offer parenting classes. Your child's doctor will also be able to recommend resources. If you don't want to attend a class, consider reading a parenting or child development book. I always take away a few good ideas and techniques from parenting books I read.
What I wish I'd learned
Is there a class you wish you'd taken in high school or college that you never did? For me, that class is art history. I'd like to audit it from the local university. Think of something you wish you knew and then find a way to learn it. Now that my daughter is in a Spanish immersion school, I'm trying to learn as much Spanish as I can, using her homework and language learning software to help me along.
Physical education
Don't forget the importance of exercising your body as well as your mind. If you'd like to learn to swim so you can try a triathlon, or improve your fitness so you can keep up with the kids, make time in your day for exercise. As a mother, I've found learning yoga and meditation to be very helpful. I am better able to "keep calm and carry on" if I take a few minutes to relax, focus and stretch each day.
"Lifelong learning" is not just a catchy phrase. Set an example for your children, and enrich your own life, by learning something new. You're never too old to try something new, so find a way to go back to school.