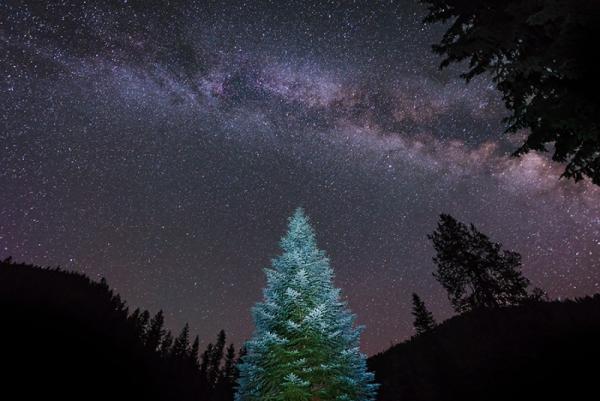 Christmas 1999, we lived by the sea in the small town of Seaside, Oregon. Our large family was struggling. Money was tight. To raise Christmas money we ran a Christmas tree lot with friends. We worked in the cold for weeks.
Finally, on Christmas Eve it was time to buy Christmas with the money. While my husband watched the tree lot, I put our six children in our old car and drove 80 isolated miles over a snow-covered mountain to buy our Christmas toys in the city.
As we left the store, I put money in a Sub for Santa bucket. My kids, aware of our circumstances looked at me with judgment. Then we drove past a man begging with a cardboard sign. Once again, I donated.
The long drive home became a lesson on charity. I explained to my children that whenever I saw someone in need I always thought, "There for the grace of God go I." In other words, under different circumstances any one of us could find ourselves homeless and without. Charity had given us a car for almost nothing. Just a few years before, the charity and kindness of others had paid our daughter's massive medical bills. We had enough blessings to share with others.
On our way home, we climbed the dark snow-covered mountain, again. I continued to teach my children about charity.
My children wondered the same thing adults often wonder. They wondered if the man with the sign would buy alcohol with our money.
Here are a few things I taught my children about charity
What others do with your gift of charity doesn't matter. It is more important that you love everyone as the Savior taught us. You can't control what others do, only what you do. It is not our place to judge anyone's actions by our own. When the Savior asks if we were charitable as he commanded, I want to be able to say, "Yes."

If you don't have anything to give, you can always pray for those in need.

Charity doesn't always have to be given in the form of money. Service and time are, sometimes, the best gift of all.

When we work together to help others, we can do amazing things. Our tiny town of less than 5,000 had raised almost $90,000 dollars to pay a local family's medical bills.

Everything we do for others matters. Even if it is a small child putting change in the Sub for Santa bucket at the local mall.

Everything we have is from blessings. Not sharing our blessings is like asking for toys for Christmas, but refusing to share your new gifts with your family and friends.
1st Corinthians Chapter 13 explains the importance of charity. It reads:
"Though I speak with the tongues of men and of angels, and have not charity, I am become as sounding brass, or a tinkling cymbal. And though I have the gift of prophecy, and understand all mysteries, and all knowledge; and though I have all faith so that I could remove mountains, and have not charity, I am nothing. And though I bestow all my goods to feed the poor, and though I give my body to be burned, and have not charity, it profiteth me nothing."
Charity is the purest expression of the love of Christ. It is a stronger, higher and nobler love than any romantic or other kind of love. It is what Christ would have us do. It is the kind of love that makes Christmas a magical time of year. It is the love we feel for each other as we reach out to children in need and deliver toys for a mythical Santa Claus, just to see a child smile.
As we drove home, the road was frozen, and snow fell hypnotically from the night sky as we talked quietly. Suddenly, all the warning lights on the dash came on, and the headlights began to dim. The temperature gauge began to climb. We were still more than 40 miles from home in the middle of nowhere. Six children became suddenly silent in the back seat as the gravity of the situation settled in.
We could freeze to death on this mountain before we found help. There was no cell phone service. I thought of all the times I had phoned police to go up the mountain and help stranded motorists on this same lonely highway. I wondered, if the car died would anyone send help?
It was our turn to be in need. I turned to my daughter, Erin, and said, "Pray." Erin said the sweetest prayer a child has ever uttered. The car miraculously ran over an hour on their childlike faith.
We never passed another vehicle as the snow continued to fall. It was almost midnight on Christmas Eve when we made it to the tree lot.
Smoke rolled out from under the hood of the car. The engine was glowing and seized, but we had our Christmas miracle. We made it home to the safety of our old house by the sea.
Be an angel on earth by being charitable and giving with love whenever you can
See the miracles in your life
Share the miracles the Lord provides
Remember, you can never give away more than God gives you
At our house, our gifts are marked, "From Blessings" not from Santa. Because we have been given much, we feel we must give. You never know when the gift you give will become the miracle in someone else's life.