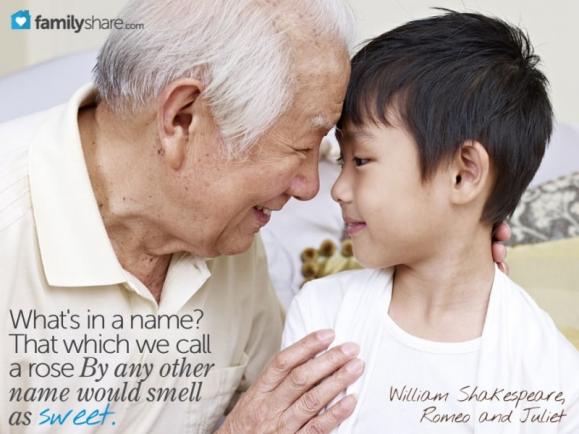 Becoming a grandparent is exciting! Grandparents get to do all the fun parts of parenting - including spoiling kids with love and attention. The name your grandchildren call you is important. It represents who you are as a grandparent and should be comfortable for both you, your children and your grandchildren to use. There are many fun variations out there. Read on to find inspiration for your perfect grandparent name.
Cultural
Many grandparent names are influenced by cultural background. My grandfather with German ancestry wanted us to call him Opa, although it didn't always stick. In Latin culture, Abuela or Abuelita is a popular replacement for "Grandma," while my Russian sister-in-law has her children call our mother-in-law a variation of Babushka, "Baba." If your family has ties to a particular culture, a direct translation of "grandmother" or "grandfather," or an informal version, may be right for you.
Regional
Some names are influenced by region. In the Southern part of the United States, grandparents have many names to choose from, including ones like Meemaw, Pawpaw, Grandaddy and Mawmaw. You could do an informal survey among your friends, or spend a few weeks listening, to discover which names are popular where you live.
Sentimental
Some people choose to use the same name their grandparents used, like Grammy or Papa. If a loved grandparent has passed on, using his or her name would be a special tribute.
Variation on your name
One way to choose a grandparent name is to try and make a variation on your name. My dad's name is Jim, so sometimes my kids call him Jimpa. My name is Amy, so I'm considering using the name Mimi when I'm a grandmother, since they sound alike. My mom's first name is different and a little hard to say, so she's shortened her grandma name to Grandma K.
Quirky
There are endless possibilities for grandparent names if you are open to unique names. A few of the more original ones I spotted are: GeezerGirl, Pebbles, Foxy, Checkers, Jeepers and HoHo. Looks like anything goes when it comes to grandparent names!
Let the kids choose
If it's important to you to get input from your children or grandchildren, ask them to choose from a few you like, or try one out for a bit and see if it works. Some grandparents let their names evolve over time, observing what the kids call them and what feels comfortable. My husband's oldest nephew called his grandfather "Bonkers," so you might need to be flexible if you let the kids choose.
The "no way" list
Perhaps easier than choosing which name you like is choosing a list of names you don't like. My mom refused to be called "Granny," but was open to several other names. I really don't want to be "Nanny," so I'll be sure to veto that one. Narrowing the list down will make it easier to choose a name you really like.
I joke with my husband that his grandkids are going to call him "Grumpy," since some days he's headed there already as a parent. I hope he doesn't live up to it! No matter what you're called, your role as grandparent is very special. Choosing a name can be fun and meaningful. The name you choose reflects the kind of grandparent you want to be, so choose wisely.