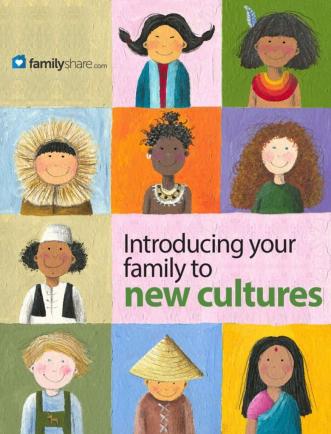 At the store the other day, my 2-year-old noticed a woman wearing a head scarf. She asked why the woman was wearing a mask. I explained to her as best I could that it wasn't a mask, but part of her culture and religion. At my son's soccer game, the referee wore a Sikh turban. Our family friends recently adopted two children from Ethiopia. These are just a few examples of the cultures all around me, even though I live in the USA. Being exposed to different people and cultures provides great learning opportunities for families. Here are seven ways to help your family become more multicultural.
Meet your neighbors
Open your eyes to the people around you. You probably have a variety of cultures represented in your circle of acquaintances. Be friendly and engage in conversations with people you meet. I met an engaging woman from India at a school event. She gave me helpful advice about Indian restaurants in our town. Be careful not to assume everyone who looks foreign is. Use sensitivity in seeking out people who seem interested in discussing their cultures.
Try a new restaurant
Speaking of food, going to an ethnic restaurant is a great way to learn about a different culture, especially if the owners are from the country the food represents. Children may be hesitant to try strange looking or smelling foods, but most menus offer something they will eat. Now that we've eaten at several Asian restaurants, my children have found dishes they enjoy and are more inclined to try new things.
Find a festival
If you have a concentration of a certain culture in your area, look for a festival that celebrates that heritage. In my small city I have seen advertisements for Scandinavian, Irish and Asian festivals. Festivals offer food, music and demonstrations relating to the particular culture represented, usually at a low cost in a casual environment. An online search is a good way to find festivals in your area.
Visit a museum
Museums big and small offer information about people and culture. If you don't live in a big city like New York or Washington, DC, which offer outstanding museums like Smithsonian and The Metropolitan Museum of Art, look for a smaller cultural museum or art museum in your area. I live in Oregon, and there are several museums highlighting Pacific Northwest culture near me. Universities often have museums that teach about local culture as well.
Cook at home
Experimenting with food and culture at home can be a good, easy introduction to something new. If your children seem interested in a new culture, try making a dish or meal together. You may need to visit a specialty grocery store to find ingredients, but most mainstream stores have an ethnic food aisle. My husband's colleague is from Korea. When we invited her to our home, she brought a Korean dish to share. It was fun to hear about her family in Korea and how she grew up.
Watch a documentary
Cable channels like Travel and National Geographic have many programs highlighting different cultures. If you don't have access to these channels, try borrowing a DVD from your local library or looking for something online. Some documentaries may show difficult footage of countries with struggles. Consider your own family's needs when choosing programs.
Embrace school assignments
Students are often assigned country reports as part of school social studies curriculum. The next time your child has one, make learning about that culture a family affair. Try to learn a few words or phrases in a new language, cook a new dish and have your child share what he has learned with the family.
We live in an ever-changing multicultural world. Children need to develop a worldview and be able to accept and work with all kinds of people. Help your family learn to appreciate and enjoy other cultures. It is a small world, and it's getting smaller all the time.