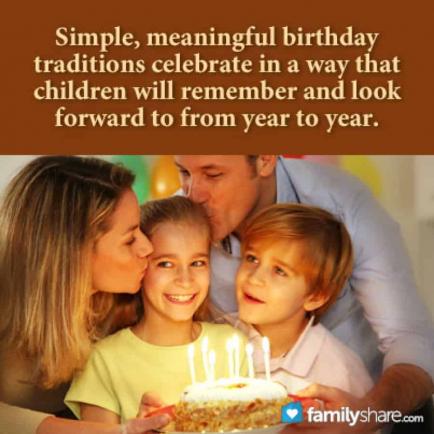 A child's birthday is very special. After all, it's a child's own private holiday. Kids count down the months and days until their birthdays. Each family and culture has its own unique way of marking the day of a child's birth, some more elaborately than others. Children's birthdays don't need to be large, complex, or expensive. The wonderful thing about childhood is that kids cherish tradition, nostalgia, and whimsy. Simple, meaningful birthday traditions celebrate in a way that children will remember and look forward to from year to year. If you're getting ready to celebrate a child's birthday, take a moment and consider these five points.
Celebrate the Child
Tell their story. It's funny how much kids love to hear their birth stories, first words, and other stuff about when they were babies. Don't simply dole out the facts, either. Make the stories entertaining, and use photos and other keepsakes to help you tell your child's tale.

Put up pictures - one for every year - floated from balloons or hung from a banner, in frames around the house.

Make a slide show with photos and your child's favorite music. There are many easy-to-use software programs, such as PowerPoint, that allow you to drop in photos, write captions, and make a special show.

Make a birthday letter. Write a note telling your child just how much he or she means to you, why you are proud of them, and what makes them special.
Favor Favorites
Let the birthday child pick the menu for the day (or at least their birthday meal). If your child likes something strange, then just go with it. The birthday only comes around once every 12 months; it'll mean a lot to your child to know that you're willing to make something special just for them.

Choose and watch a favorite movie with a favorite snack.

Read a favorite childhood story every year.
Make the day Special
Put up a banner or balloons the night before and leave them up all day.

Add food coloring or colored sprinkles to regular food.

Bring your child breakfast in bed.

Have a "Birthday Plate" that is reserved only for meals eaten by someone having a birthday.
Share Family
Have siblings and family give gifts of talents. My kids have the best time ever making hand-made games or preparing musical numbers to entertain the birthday boy or girl.

If family is distant, arrange a special phone call or video chat. It's nice for kids to know that the members of their family and extended family love them, even if they're not able to be there for the birthday itself.
Commemorate the Day
Take a photo of the child in the same hat, or with the same prop every year on his or her birthday. Show your child how much they have grown over the years.

Record special feelings, thoughts, or memories in a "birthday book" every year to be given as a birthday gift when the child is grown up.

Make hand/footprints each year. Trace the image onto paper and frame it or put it in a scrapbook. You can also use hand/footprints as molds for steppingstones.