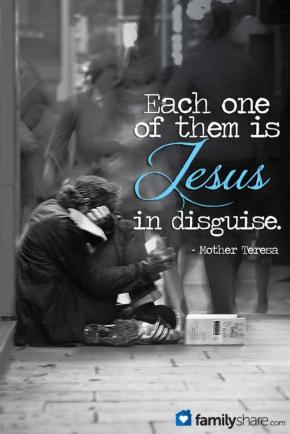 Throughout scripture, believers are encouraged, perhaps even commanded, to serve others. Why is this so important? Perhaps it is because we need to learn to have the Christ like attribute of compassion for those around us. At the same time, as we care for those around us, we are in turn assisting God in his work.
When we serve others, we are also serving God.
A scripture found in the New Testament declares, "... Verily I say unto you, inasmuch as ye have done it unto one of the least of these my brethren, ye have done it unto me." (KJV Matthew 25:40) As we care for the young, the old, the poor, those who are sad or otherwise afflicted, it is like we are serving God. Conversely, if we do not help those around us who are in need, we are also treating God poorly.
God needs our help
The late religious writer Spencer Kimball explained, "God does notice us, and he watches over us. But it is usually through another person that he meets our needs. Therefore, it is vital that we serve each other..." We need to be ready and willing to help and serve others. Sometimes, it will be just seeing a need and acting on it, other times, we may feel inspired that someone needs our help. Regardless, we may be an answer to someone else's prayer.
ALL people need service
"Our service to others should be independent of race, color, standing, or relationships. After all, the commandment to 'succor the weak, lift up the hands which hang down, and strengthen the feeble knees' did not come with qualifications," said Filipino religious speaker Michael Teh. We need to be willing to serve ALL people, not just those we like or who are our friends.
Anyone can serve - and it can be simple
Often, a smile, a hug or an encouraging word is enough to lift someone in his time of need. Other times, monetary or other physical needs can be fulfilled. It might be yard work, house cleaning, tending a young child or children or preparing meals for those who may not be able to do it themselves that can be acts of service. Whatever it is, there is something each person can do to help.
A popular religious hymn written by Will L. Thompson expresses this heartfelt message:
"Have I done any good in the world today? Have I helped anyone in need? Have I cheered up the sad and made someone feel glad? If not, I have failed indeed. Has anyone's burden been lighter today because I was willing to share? Have the sick and the weary been helped on their way? When they needed my help was I there?
Then wake up and do something more than dream of your mansion above. Doing good is a pleasure, a joy beyond measure, a blessing of duty and love."
Doing service for others cannot only help those being served, but also aid God in his work. Those who serve also gain immeasurable benefits including drawing closer to God as well as to those we serve. Be an answer to someone's prayer by learning to serve God by helping others.