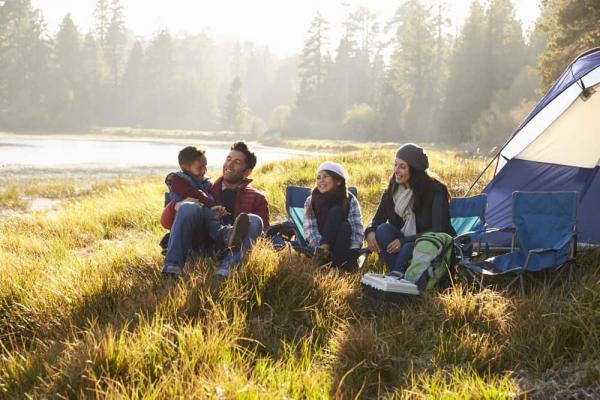 Family campouts are a great opportunity for bonding. Leave the tablets, laptops, and all but one cell phone at home and get in touch with nature and one another. At first, it may be a bit of culture shock, but the kids will likely come to love the break from technology and the opportunity to be with family. Make it fun, plan games, and bring plenty of fun snacks.
There are safety issues to address in order to not spoil the fun. Here are some helpful hints and tips for getting them excited.
Practice camping
If your family is new to the idea of weekending in the woods, practice in your own yard. Put up tents and have a few sleep outs to get them used to the noises of nature.
Pack plenty of food and water
Having plenty of food and water on hand will take the sting out of not having a fridge and pantry handy. Bring along their favorite snacks. Comfort food gives them some familiarity.
First aid kit
Assemble or purchase a good, comprehensive first aid kit to take along. It should include bandages, gauze, tape, antibiotic ointment, alcohol wipes, ibuprofen or acetaminophen, scissors, adhesive bandages, butterfly bandages (for wound closure), safety pins, small first aid manual, tweezers, bug repellent and bug bite spray, and antihistamine. Optional items: calamine lotion, vinegar or aloe for sunburn, sling, ice pack.
Fire safety
Chances are you'll be cooking over a fire. Give the kids a good talk prior to the campout about fire safety. They tend to get rambunctious in nature, so make sure they know to keep a safe distance. Keep a bucket of water and a shovel handy for emergencies.
Water safety
If you are camping near a body of water and plan to play in it, outfit everyone with water shoes (sharp rocks and broken glass are hard on tender feet) and safety vests. Instruct and enforce the buddy system, putting older children and adults in charge of youngsters.
Heat safety
Kids can dehydrate and overheat quickly, so know the signs and treatments for heat exhaustion and heat stroke.
Wild animals
Teach kids about the difference between domesticated pets and animals in the wild. Make certain they understand not to approach even small wild animals.
General safety
Equip children with a whistle on a chain around their necks. Let them know it is for emergencies only and to be blown repeatedly if they wind up in trouble. When you check into the campsite, find out the nearest shelter in case of severe weather (thunderstorms, tornadoes, hurricanes, forest fires). Consider purchasing an emergency radio. Also equip kids with their own flashlight (small LEDs can also be worn around the neck. Make certain to pack appropriate clothing to cover all weather conditions.
Most of all, make it fun. Play tag. Make hand silhouettes with the flashlight on the tent. Bring games to play, marshmallows to roast, and have lots of good heart-to-heart talks. Play it right and they will look forward to these excursions.