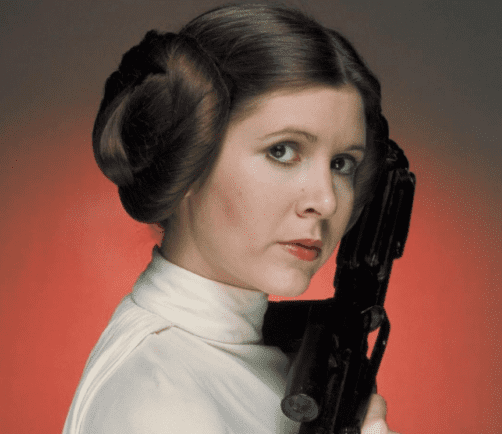 For much of her life, Carrie Fisher said she wasn't happy. She was diagnosed with bipolar disorder at 24, but refused to accept her diagnosis until she overdosed and got sober when she was 28. (She first appeared in Star Wars when she was only 21.)
From drug abuse to heart-breaking relationships, Fisher had a hard life. This past year Fisher announced she would be writing an advice column on The Guardian called "Advice From the Dark Side." In her first letter, which invites readers to reach out to her, she explains that life is much different now: she's happy.
"I've turned out to be (at close to 70) a kind of happy person (go figure!). A human who's had her fair share of challenging and unhappy experiences. Over time, I've paid attention, taken notes and forgotten easily half of everything I've gone through," Carrie wrote.
We've compiled some of her sweetest insights on life and love and loving yourself below.
On hard times
"Going through challenging things can teach you a lot, and they also make you appreciate the times that aren't so challenging."
_From WebMD
On society's obsession of beauty
"We treat beauty like an accomplishment, and that is insane. Everyone in L.A. says, 'Oh you look good,' and you listen for them to say you've lost weight. It's never 'How are you?' or 'You seem happy!'"
_From Good Housekeeping
On working through marriages
"I think it's worth maintaining your marriage. Forgive him. It's the most amazing thing to be able to forgive. And so difficult. But relationships are difficult."
On happiness
"I've gotten to an age where I enjoy my life. I've spent enough time struggling with it, and at this point it's living on one side of the magnifying glass; I stay on the side of making big things appear small."
_From WebMD
On what matters most
"The most important things in my life now are my mother, my daughter, my friends and my dog, Gary. He travels everywhere with me! I love that saying: make me become the person my animal thinks I am. If I am who Gary thinks I am, I'm fantastic!'
_From Good Housekeeping
On love
"What I've learned over a lifetime is that love is an action."
_From WebMD
On loving your body how it is
"When I do lose the weight, I don't like that it makes me feel good about myself. It's not who I am."
_From Good Housekeeping