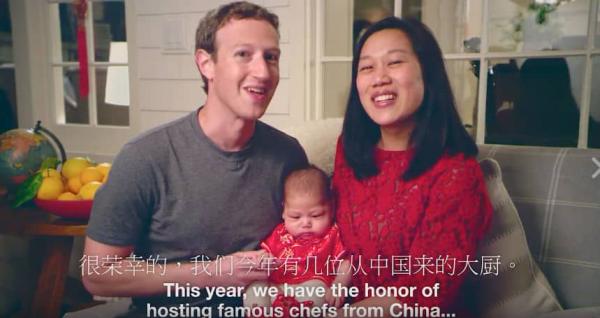 In celebration of the Chinese New Year, Facebook founder Mark Zuckerberg and his wife Priscilla Chan published a video on Facebook in which the couple talked about their daughter, Max, and how they had chosen a Chinese name for her.
Speaking in Mandarin, the couple said they had given her the Chinese name "Chen Mingyu," - which means "Break of the day" and "enlightening" - as Chan's family name and "represents our hope for a brighter tomorrow for the world," Zuckerberg said.
Chinese baby names aren't anything unfamiliar for Americans, as some parents will give their children one either because of their family's heritage or to celebrate Chinese culture.
This is also because Chinese names often have deeper meanings, stemming from Chinese history.
According to Baby Names, "5,000 years of Chinese heritage brings names that symbolize ancient treasures, virtues, and serenity. There is immense diversity due to Mandarin and Cantonese dialects, different dynasties and religious influence like Buddhism, Taoism and Confucianism."
Many of these meanings are inspirational. The name "Ai," for example, means "Lovable," while "An" means "tranquil" and "Chang" means "Thriving," Baby Names explained.
Funny enough, Chinese parents have recently decided to name their babies after English names. Slate's Huan Hsu looked into this craze, and found that standard American names, like Jackie or Ivy, are commonplace in Chinese culture. So too are odd English words, like "Sniper" and "King Kong." Hsu himself was even referred to as "Steve" during his time in China.
These Chinese parents tend to be from families in urban areas or who have access to education. Some Chinese classes teach English, and instructors and parents alike want children to be familiar with the language, so they give them English names, Hsu wrote.
"China now churns out approximately 20 million English speakers each year, and the estimated number of English learners in China is in the hundreds of millions," Hsu wrote. "In fact, there are probably as many Chinese who can read this sentence as Americans."
That's a trend not lost on American students, who will also adopt Chinese names to help them become more familiar with the language. Emily Liedel - or Ali Mili in Chinese - wrote for The Guardian that it's important to get these names right - whether you're a parent naming your child something Chinese or you yourself are adopting a Chinese name - since Chinese names tend to have familial connections and are often rooted in history.
There's also a sense of respect that comes with a Chinese name, so choosing the right one is important as to not disrespect the history associated with the name.
Liedel wrote that Chinese names are also important since they offer children a potential chance for success because the name's translation could be an inspiring and uplifting message for the child, like how "Ling" means "soaring."
At the same time, some of the names could have a less positive effect because they sound like they're from other cultures. Liedel specifically mentions the name "Xi," which "sounds Korean," and may make people think you don't necessarily understand Chinese culture, which could create some problems adopting to the Chinese way of living.
Liedel suggests then that parents be careful with their choice, making sure to pick a name that matches the influence they want it to have on their child.
These Chinese names should also be short, the last name should come first as it does in Chinese culture, and people need to choose a name that fits their lifestyle.
"You're looking for a name that will be with you for the rest of your life," she wrote, "so take your time."
Need some help deciding? Here's a slideshow of the top 10 baby names in China and their deeper meanings: