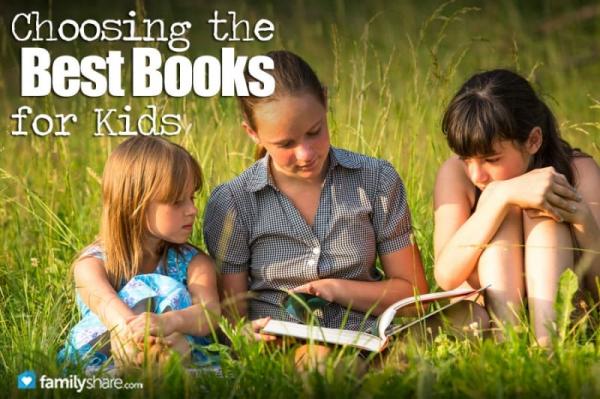 In the flood of media parents face every day, how can they choose the very best books for their kids? With life so fragmented, and with so many media choices, reading time seems more limited than ever - but the choices are overwhelming. Every day, hundreds, if not thousands of books are published, especially with the advent of the ebook.
Do you find yourself overwhelmed at the library when trying to pick out books for your kids? Many parents resort to choosing books randomly by glancing at covers. Others look at online lists of "great books for kids" but find such lists are not much more than a matter of personal opinion.
A possible shortcut a parent can turn to without too much worry are the yearly winners of the Newberry and Caldecott awards.
Generally speaking, the winners of these awards are reliably good books - ones that will stand the test of time. The Newberry medal began in 1921 and is presented by the Association for Library Service to Children, a division of the American Library Association (ALA) for the year's "most distinguished contribution to American literature for children." The Caldecott medal is specifically awarded for excellence in illustration in children's literature and began in 1938.
Newberry or Caldecott Honor books are runner-ups to the medals, and many fine book choices can be found among the winners.
Since these medals are chosen by a diverse group of people belonging to the ALA, the list is likely to be less based on personal preference and more on overall excellence. And, by choosing a variety of books from the list - ones written decades ago to current winners - kids will have a chance to experience many styles and trends in children's literature.
A list of the winners for the Newberry Medal can be found easily online. One good source is the ALA website.Caldecott winners are listed on this page.
Use the lists for ideas to get you started
You'll probably find books you loved as a child. Titles like, "Where the Wild Things Are," by Maurice Sendak, the 1964 Caldecott winner. Or "Wordless Tuesday," by David Wiesner from 1992. The Newberry winners have a wide variety - a book for nearly any interest, from 1963's sci-fi "A Wrinkle in Time," by Madeleine L'Engle to the beloved 1969 fantasy "The High King," by Lloyd Alexander to "Moon over Manifest," by Clare Vanderpool, a historical American tale and winner in 2011.
Use movie tie-ins for generating interest
. One mother found that after watching the movie adaptation of the Newberry winner, "Holes," with her child, he was interested in reading the book. At first she felt watching the movie first would be sort of like cheating, but she realized that today's kids are visually oriented, and a movie introduction can be a gateway to a great reading experience. Other medal winners with movie connections are "The Tale of Despereaux," by Kate DiCamillo, "Sarah Plain and Tall," by Patricia MacLachlan, "Jumanji," based on a book written by Chris Van Allsburg and "Bridge to Terabithia," written by Katherine Paterson.
Read aloud
Many books - Newberry or otherwise - are best enjoyed read aloud. Try taking turns reading with your child chapter by chapter. Reading aloud to your kids is also a way to introduce them to books that are too difficult for them to read on their own. There's nothing wrong with taking a break in the story to explain an advanced vocabulary word or discuss the plot for a few moments to clear up any confusion.
Try a Newberry or Caldecott book the next time you go to the library. You might discover you like the book as much as your child.