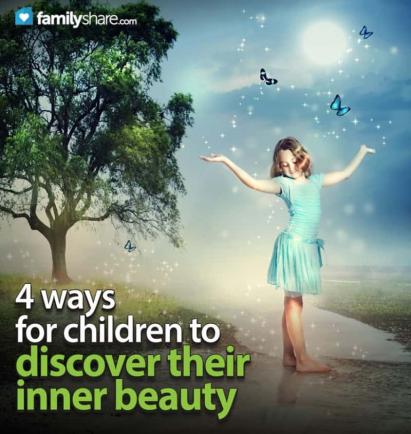 To many, it is in our children where we find our greatest achievements. We see their smiling eyes, listen to their melodious laughter, and know that, with them, we have touched Heaven's gate. All too often, though, we forget to convey this to our children. We forget to remind them how amazing and remarkable they are, and how beautiful they are from the inside out. Why is complimenting character so important? In a world where the value of an individual is based upon their appearance or their physical abilities, it is important to remember the words of Marcus Cicero who said, "It is not by muscle, speed, or physical dexterity that great things are achieved. But by reflection, force of character, and judgment." As parents, we need to help our children overcome the world view and seek something higher. Here are four suggestions on how we can complement our children's character and help them recognize their beauty within.
Be Positive
Every character trait can be both good and bad, depending how you look at it. For example, my daughter has an innate "stick-to-it-iveness" characteristic. I can either see this characteristic as a flawed sense of stubbornness, or I can see it as an amazing ability to persevere despite all the odds stacked against her. This is a quality which will be beneficial to her in her life. If we focus on the positive aspects of our children's characteristics and do our best to compliment them on those qualities, it will encourage them to more fully develop those qualities that will be valuable to them in the future and help them have a positive image of themselves.
Be careful
When praising your child, be careful what it is that you are complimenting. If you compliment your child because he took first place, or because you think he's the best at something, the message you are sending is that in order to get your praise, he needs to always be the best. Rather than complimenting his abilities, compliment the child. Compliment him for who he is rather than what he does. Compliment him on his kindness to others, his thoughtfulness, generosity, honesty, determination, creativity, faith, obedience, patience, or his ability to forgive others. All of these are character traits that, when developed, can become great assets to him throughout his life after time and age have both claimed his abilities.
Be encouraging
Sit down with your child. Make a list of all her character traits. These traits can be both positive and negative. For example, one of my negative characteristic traits is that I can be a bit bossy at times. It is good to write down both the good and the not so good so that your child can fully know who she is and know that you will love and accept her anyway. Once the list is written, you can help your child see all the amazing things she can do, and explain to her that even those traits that seem like weaknesses can be strengths if they are used in the right way. For example, a bossy character trait can lead to an amazing leader one day. Encourage her to develop the positive and overlook the negative in herself.
Be hopeful
Make a list of character traits you hope to develop in your children, and make it a family effort to develop them. Benjamin Franklin had a list of 13 character traits that he wanted to develop in himself. He worked on one a week so that after an entire year, he went through the list four times. You may not want to be as ambitious as Benjamin Franklin, but even introducing one character trait a month, in a year's time, you can help your children develop such qualities as honesty, compassion, respect, faith, forgiveness, gratitude, optimism, generosity, tolerance, virtue, obedience, and humility.
It is said, "Be the change you wish to see in the world." If we believe this is true, it begins by teaching and complimenting the character in our children. It is their character that will determine how they live their lives. Heraclitus said, "Good character is not formed in a week or a month. It is created little by little, day by day." As parents, we must strive little by little, day by day, to compliment and strengthen the character traits of our children. As we do, they will grow to know and understand the beauty that lies within them, and the potential they have to truly make a better and more beautiful world for us all.