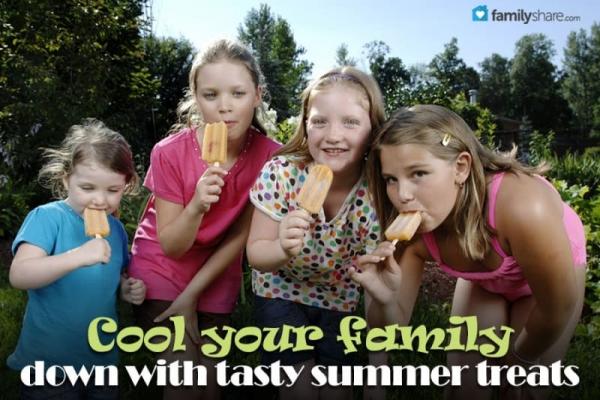 While I might argue that a cool treat is tasty any time of year (even with snow falling outside), the heat of summer is a time when you can really get creative, cool off and stay hydrated with a delectable cool treat. Here are a few of my favorites.
Fresh or frozen fruit
Cool apple slices, berries or melon make great snacks. I also love to freeze grapes. It's frozen, juicy goodness and so easy and healthy too! Frozen bananas are also great to have on hand. Simply slice into bite size chunks and freeze. You can even dip them in chocolate before freezing, add peanut butter or both! Any way you decide, they are almost like bites of ice cream. My kids also like frozen peaches or strawberries, so start experimenting with a variety of fruits and enjoy.
Homemade popsicles
A popsicle mold is a fantastic buy and the possibilities are endless! Without a mold you can still use an ice cube tray or Dixie paper cups. The simplest is probably just to pour in your favorite juice or soda. From there you can add fruit chunks or stir in yogurt. Speaking of yogurt, try putting go-gurt or frozen personal yogurt or pudding cups in the freezer for your own frozen yogurt at home. Even Capri-suns or other boxed juices can be put in the freezer for a quick and easy treat.
Smoothies
A good blender is a great kitchen appliance to have on hand. Vita-mix and BlendTec are the most highly recommended, good quality blenders, but most blenders that can blend ice seem to do alright with smoothies too. There are lots of recipes out there, but really you can just put together a few ingredients and get great results. Start with a juice or milk base, add some fruit (think berries, bananas, peaches, pineapple - go wild), some ice and blend until smooth!
Depending on your preferences, add a sweetener like sugar or honey, yogurt, ice cream, kefir, coconut oil, vanilla flavoring, rolled oats or milled flax seed, peanuts or almonds. Smoothies can be as sweet or as healthy as you want to make them. A handful of spinach will turn your drink green but really won't change the flavor and will get in a serving of veggies too. Also take a shot at making your own Julius drinks using 1 c. milk, 2-3 T orange juice concentrate, 1 tsp. sugar, ½ tsp. vanilla and a few ice cubes. Yum!
Ice cream
Ice cream is a given. Eaten by the bowl full, on a cone, with brownies or cake or cookies or fruit, an ice cream bar with all your favorite add-ins, added to your favorite sodas - you get the idea. Even better, make your own at home and the flavors are endless.
Cookie dough
We also love to freeze bite-size balls of cookie dough. Look for an eggless option or leave the eggs out and add a bit of milk if eating raw eggs bothers you.
Savory treats
Trail mixes or flavored popcorn require little or no heat to put together.
Believe me, your kids and all the kids in the neighborhood will thank you for giving any (or all!) of these treats a try. Yum!