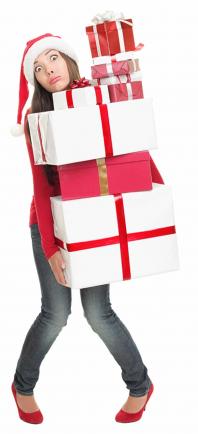 The end of the year can bring joy and celebration. And with it, exhaustion and frustration. With a few rules, you can enjoy the holiday without all the stress.
We have a large extended family and know how happy and hard the holidays can be, here are some tips we've learned over the years.
Keep your kids on a schedule
This is especially important if you have smaller children. With parties almost every weekend, and the extra sugar throughout the month, your children can quickly fall from their little angel status. Keep their nap and bedtime schedules as firm as you possibly can. This can help with their holiday burnout, as well as give you an excuse to take a break and put your feet up.
Delegate!
You shouldn't, and can't, do it all. Accept this fact and ask for help! Give your honey a specific shopping list and send him with a child or two. Ask your older children or teens to help wrap the gifts. Wrap as you buy so gifts are ready to go. It's fun to wrap a few things on Christmas Eve, it is not fun to be up all night trying to beat a deadline.
Plan shopping trips
Shannon has a stack of favorite holiday recipes. It was tradition for her to sit at the kitchen table with one of us at every cupboard. She would go through recipes and we would tell her whether or not we had the items on the list. Then she would compile a shopping list for all the goodies she planned on baking. This organizing time saver helped her avoid making more than one trip to the store.
Shop smart and make it fun for kids
In an effort to keep us involved and teach us, Shannon took shopping for food and sometimes gifts one step further. She separated her list out by store sections. She knew her local stores, which helped her finish her list in a flash. When we were children, she would give us sections of the list and put us in charge of checking things off. This kept us involved and engaged. She taught us how to compare prices and shop at the same time. We helped her with coupons as well. Spending less money always reduced holiday stress.
Let go
If you have harbored resentment toward any family member, give yourself a gift and forgive them. This is a great time of year to give them a call and let them know you are looking forward to seeing them at the family party. Letting go can be a lot easier than sitting at a party frustrated and unable to have a good time.
Snip your to do list
Ask yourself, as you look at the list of things to do and places to go, what has to happen. If there are things you don't need to do, or places you don't need to go, cross them off the list. Examining the value of each activity to your family will help you choose the best and leave the rest. Make sure you schedule some time with your own spouse and children. As fun as extended family and friends can be, you need some one-on-one time too.
Set a budget
The holidays can excite the spender in you. Make a reasonable budget and stick to it. There is nothing like a huge credit card bill in January. If you don't trust yourself, bring only cash when you go shopping or buy online where you can focus on exactly what you want and miss the flashy displays.
Keep it simple
One of Shannon's best Christmas gifts to her co-workers, friends and neighbors was a bottle of cider and a Ziploc bag with all the spice fixings for making a special family recipe of spiced cider. The baggie was tied with a bright ribbon and candy cane. It was adorable, super simple and a hit with everyone. Plan simple gifts and give your family the gift of more time together focused on what is really important at Christmas, love.
Enjoy yourself
The holidays can be stressful, if you let them. Why not make it a time to fall in love again with yourself, your family and your friends. Find time to create and bring joy to others. Spend time every day finding the true spirit of the season, then bring a little of that happiness with you wherever you go. You don't have to do it all at Christmas. Spread service and happiness into January. Release yourself from having to do it all right now.
Focus on Giving
Children can get wound up in the excitement of gift giving. Help them focus on giving, promoting this can show them the wonder and excitement they can bring to others. Teach them that service is also a gift. Help them to plan service gifts for elderly relatives or neighbors.
During this holiday season let go of the hustle and bustle, focus more on the love and joy you feel surrounded by your family and friends. Bring joy to others by spreading love, and have a great holiday this year!