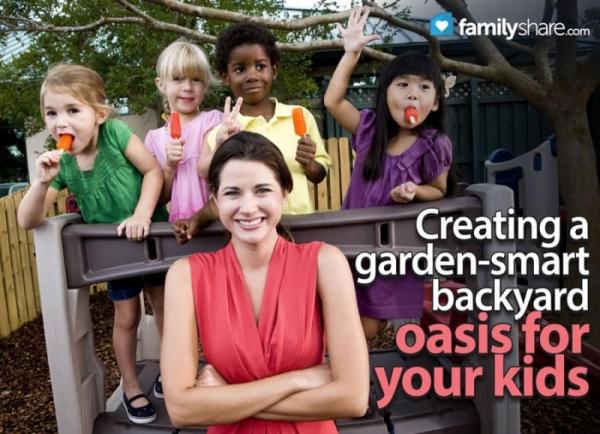 Watching the children giggling and running in the backyard while my husband and I harvest vegetables we've grown brings me great joy. It may be my imagination, but the food we grow tastes better and the kids are more willing to eat what they've helped plant. When planning your back yard oasis here are a few things to consider:
Gardens like sun, kids love shade
When we planned our garden we realized the best sun was on the south-west corner. We then mapped out a plot and left room to expand if we so desired.
Not all plants are healthy
When you are planning your garden, whether it be for vegetables or flowers, check for plants that will be non-toxic if consumed accidentally by kids or pets. When we bought our home we had a gorgeous vine in the front yard. It sprouted beautiful deep red berries. When I took a sample into the local nursery I was told they were highly poisonous - not something we wanted the kids to ingest.
Your local experts can be great help in mapping your garden and deciding what plants to use. Local nurseries can also help you understand what plants grow better in your particular soil and climate.
How big is your yard?
Not everyone has a large yard, yet you can grow a lot in a small amount of space, especially if you go vertical. Tomatoes grow wonderfully in pots, you can even grow pumpkins in a pot and let them vine all over. We've grown pole beans in a small 2 foot circle area, with dowels set up like a tee pee. We left a small opening on one side and loved watching the kids climb inside their fairy fort and gobble up the green beans.
If you have a small area dedicate a corner to your garden and get creative, plot out enough space for your kids to have some fun as well.
How much are you going to grow?
Is your backyard oasis mainly for vegetable production? Do you want a small salsa garden? Would you rather have flowers and trees that bloom? We chose a combination. Sometimes plants work well together. When we plant our vegetables we leave room for a row of marigolds, they naturally repel bugs, without caustic chemicals and brighten the landscape. Egg shells crushed and sprinkled can also help deter slugs and snails. An overturned flower pot is a great way to trap earwigs.
Better Homes and Gardenshas a wonderful article with ideas for gardening with kids. We planted shade trees around the swing set and deck to shade the kids and our eating area from the afternoon and evening sun.
What kind of play do your kids engage in?
Are they young enough for a swing set? Older and want a trampoline? Do you want a tree house? Do you want a fire pit? Try Pinterest for some fun ideas! This can be really fun and rather dangerous on your budget. When planning your family's play area, think about when you will use it most. Our summers are hot so our play area is under a few maple trees giving us shade most of the day. My mother's location is quite cool and we love to soak up the sun on her deck.
A good sturdy outdoor Rubbermaid, or storage bench works well for sand toys, dump trucks, footballs and lawn games. We leave a section of garden for dump trucks and diggers and curious little boys. If you have a flat wall or fence you might consider hanging a board painted with outdoor chalkboard paint, or exterior flat paint. Kids can use sidewalk chalk on it.
My mother has a small section of garden with tiny plants and furniture, the Fairy garden, it is perfect for children's imaginations. Tiny doors on the side of trees and small stone paths leading into the grass are always an exciting part of visiting grandma's.
When creating an area for your children to play in your yard, try to keep an open area for running and fun, away from your garden area. Keep an assortment of lawn games for kids to play or adults on pleasant evenings. Some of our favorites are
Kubb a fun game we made the pieces for ourselves the instructions are in the link.

Ladder Golf also a game we constructed from an online tutorial.

Slip and Slides are great fun for hot days, this one we purchased but have seen others make it as well.
Nothing brings fun to a halt like a smashed tomato plant. You can place a decorative fence along the side or your garden, or plant in raised beds to deter the little ones' curiosity. If you can, when you plan your yard, keep the active open area away from your tender plants.
How much work are you willing to put into it?
Everyone loves creating and planting, but the maintenance can be a chore. When you plan your garden and children's areas make sure you take a look at where you place things. Ask yourself, "Do I want to mow around that? Is that secure? Can I maintain the weeding in that size of a garden? Will I have time?"
What is your budget?
Plants can be expensive, if you can start them from seeds you may save a little money. Swing sets can range from the fairly inexpensive to the extravagant. How much are you willing to spend? If you're handy, you could build most, if not all of your oasis, yourself. Customize it to your tastes.
Your yard can be your summer living room, and provide a tasty harvest. With a little planning and a lot of love your family can have fun, enjoy great food and make some amazing memories together. What are some of your backyard ideas? Leave us a comment.