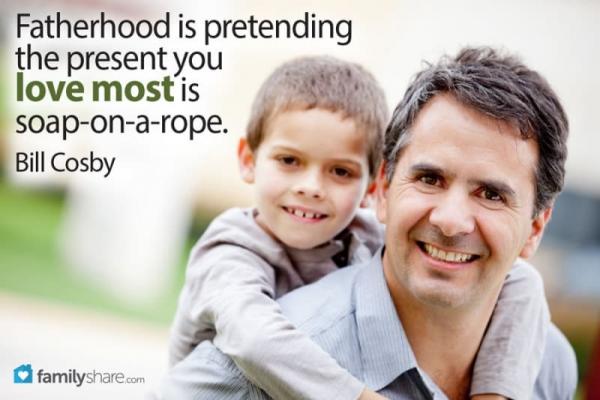 Most fathers are easy to please and easy to love. They generally go with the flow of the family and have few complaints. Because of this, making dad feel extra special on Father's Day will take some thought. Let him know how much he means to you and to your family by planning something unique, just like he is. Some of these ideas would be better implemented on a Saturday, while the others are perfect for Father's Day.
Breakfast bonanza
Let dad have the morning off. Send him golfing, on a run or just let him sleep in. Make him all his favorite breakfast foods and serve him with a smile.
Backyard barbeque
Summer's just starting when Father's Day rolls around. Plan a fun outdoor dinner for your dad to celebrate. Let dad do the grilling of his favorite meat or veggies, or hand him cold lemonade and a lawn chair and do the grilling for him. Better yet, get him a hammock and set it up for a surprise. Lawn games like badminton, croquet, bocce ball, and ladderball would be fun additions to the evening.
Servant for a day
This idea is perfect for kids. Kids serve dad all day long. Jobs offered could include car washing, drink fetching, a foot or back rub, and chores usually assigned to dad, like taking out the garbage. Other ideas include offering bed turn-down service, bringing the newspaper, and taking dad's coat and shoes as he enters the house.
Lots of love
Give dad the good kind of heart attack by placing hearts all over his office, bedroom, or closet door. Have every member of the family write what they love about dad on several hearts. Include balloons and streamers for more visual impact.
Photo memory book
A photo book is a perfect gift for grown children to give. Compile photos of your father throughout the years, from his first days as a new dad to becoming a grandfather (if applicable). There are many companies that will create photo books, including Shutterly, Snapfish, blurb, and iPhoto. If you are new at creating photo books, give yourself plenty of time to collect photos, learn the software, and create and edit the book. Allow for printing and shipping time as well.
Dad's day out
Think about your dad's favorite hobbies and interests. Plan an outing that he would enjoy. If he loves to hike, pack a picnic lunch and hit the trails. If he has a favorite sports team, buy tickets to a game and surprise him. Stop for dinner at his favorite restaurant, or go for ice cream and get his favorite flavor. Fathers often sacrifice their own interests for the family's, so give your dad a chance to enjoy some of his favorite things.
Create a gift
If you or your children are creative, consider painting dad a picture, taking a special photograph or writing a poem. Frame or present your artwork in a way that will make it easy for dad to display and enjoy. If you aren't creative at all, a heartfelt letter will have the same impact. Personal gifts like these are timeless.
Dad's favorites dinner
Survey dad and ask him about all of his favorite foods, then create a meal with several of them. Have each member of the family say what they like about dad. You could decorate the table with some of his favorite things and photos of special occasions, like births, baptisms and graduations.
Story time
This idea works well for fathers of all ages, but would be great for a dad with a large extended family. Gather the family around and share favorite stories about dad. If your family isn't near enough to gather, collect stories via email or letters and compile them to be read aloud or for dad to read on his own. Laughter and tears are guaranteed.
Even if your relationship with your dad hasn't always been perfect, Father's Day is a chance to thank him for giving you your start in life. Honor him on Father's Day with something from the heart.