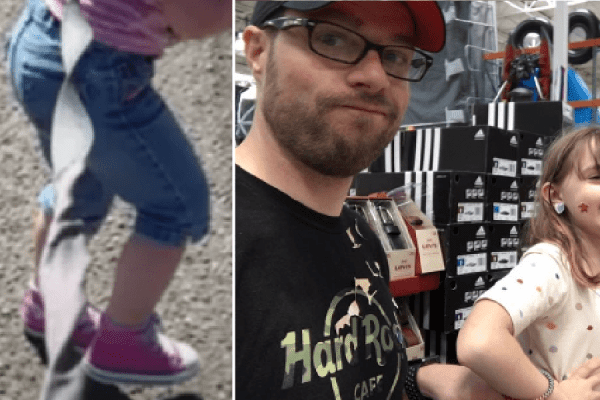 There are a million decisions you have to make as a parent. Are you going to co-sleep? Breastfeed or bottle feed? What brand of coconut oil are you supposed to use? The questions are never-ending and parents usually opt to go with what they think is best for their child - if you take the advice of everyone around you'll, you'll end up driving yourself nuts.
That being said, there are parenting decisions that are pretty controversial and may alter how you decide to parent, in fear of being judged.
Clint Edwards, the blogger behind "No Idea What I'm Doing" daddy blog, posted a controversial picture of his daughter at the farmers market wearing a leash.
Before you judge, hear him out
If you're someone who thinks putting your kid on a leash is the worst thing you can do, this dad's viral post might change your mind.
He starts the post by saying, "We were at the farmers market. No shame. I put this kid on a leash. She's a wild child, and this thing has already kept her out of the road and from sticking her hand in an ice cream machine, along with keeping me sane."
He's only concerned for his daughter's safety
Edwards didn't want to put his three-year-old daughter Aspen on a leash to be cruel or as a punishment. He did it because he loves his daughter and wants her to be safe.
He continues to say that if he didn't do this, Aspen would be in serious danger. He says, "If I didn't put Aspen on a leash...she'd be the kid popping up in every Facebook feed for wandering into a shopping center parking lot, unattended. She could be the child climbing into the tiger cage. Because I can't, for the life of me, keep her from moving."
This was his solution for safety
Many parents experience energetic children who are extremely curious about the world. It's a good thing, as long as they're staying safe. Edwards found that the best way to keep his curious daughter out of harm's way was to put her on a leash.
People always have their opinions
His decision hasn't always been popular. He continues in the Facebook post, "I get dirty looks from strangers. In fact, I'll probably get some 'I'm the perfect parent and this is why you suck' comments on this post." He understands that this parenting decision can cause people to roll their eyes in disgust, but all parents have one thing in common: They want to keep their children safe. This is how Edwards has chosen to keep his child safe in a crowded space.
You know what's best for your child
Before you judge this father too harshly, he has some advice for people who don't agree with his choices. He says, "If you see somebody using something like [a leash], it's for a good reason. Don't make assumptions. I'm their parent; I know this child well enough to know that I need this. So trust us."
The bottom line is that every child is different and their parents know how to parent them. We tend to see one picture and assume we know everything about the child and family, when we really know nothing. What works for your child might not work for another ... and judging or harshly criticizing these parents is never a solution.
Did Edwards post change your mind about using a leash for your child? Let us know in the comments!