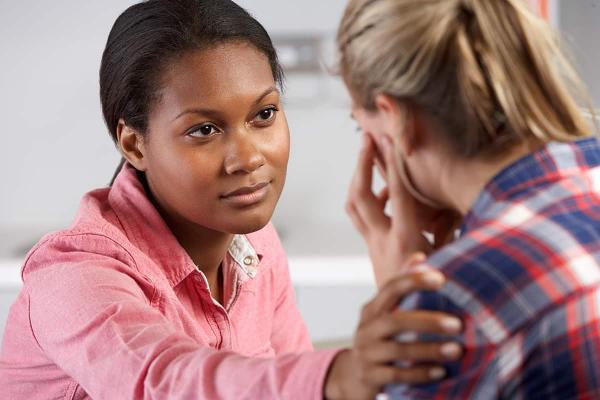 We are all human and imperfect. Every one of us makes mistakes on a daily basis. We all crave comfort and forgiveness from our grief and guilt at times. And yet, sometimes life can become all about us and we can miss others on the same journey. How many times have we seen someone else in pain and failed to stop and serve them as the Savior would want us to?
Easter is a celebration of the Savior's triumph over death and his gift to us of life after death. This Easter celebrate the Savior and his love by living as he did, loving yourself and others.
Jesus Christ gave us the supreme example of love in his everyday actions. In John chapter 8 we read about a woman brought before him in adultery.
"And the scribes and Pharisees brought unto him a woman taken in adultery; and when they had set her in the midst, They say unto him, Master, this woman was taken in adultery in the very act. Now Moses in the law commanded us that such should be stoned: but what sayest thou?"
In that room, Christ, being perfect, was the only person qualified to render judgment of that woman. He had every right, according to law, to pick up a stone. But he didn't. Here is his response:
"This they said, tempting him, that they might have to accuse him. But Jesus stooped down, and with his finger wrote on the ground, as though he heard them not. So when they continued asking him, he lifted up himself, and said unto them, He that is without sin among you, let him first cast a stone at her. And again he stooped down and wrote on the ground."
Eventually every man left and Jesus asked the woman where her accusers were, and then looked at her and told her to go and sin no more.
Every one of us, at one time or another, can relate to that woman. We have made a mistake, committed a sin, we feel guilt and intense sorrow, even feelings of hopelessness. And the thought that we may never be clean again.
How many times are we the instigators of these feelings in others? How many times do we take the role of the Pharisees? Pointing our finger at another and accusing them of sin. Even in our own home we find fault with others. Jesus Christ gave us our perfect example. Now, we need to be the one to stoop down and write in the sand. The one to avoid judgment, and give gentle encouragement to others.
Dieter F. Uchtdorf, a former pilot and religious leader gave us advice in this area. He said, "This topic of judging others could actually be taught in a two-word sermon. When it comes to hating, gossiping, ignoring, ridiculing, holding grudges, or wanting to cause harm, please apply the following: Stop it!"
Christ's love was universal. He did not stop anyone from approaching him, he sought out everyone and taught them of their Father in Heaven's love for them. He suffered every temptation, pain, heartache and suffered the pain of the sins of all the world. He didn't leave anyone out. He loves every one of us and knows every one of us. He knew what he was signing up for, and he knew we would make mistakes which would prevent our returning to live with our Heavenly Father. His great gift to us, repentance and eternal life, was given freely.
Love for others
This supreme love Christ has for us should be applied to everyone around us. If you see someone fall, someone hurting, pick them up. Heal their wounds with your love, the greatest change will be in your own heart.
Uchtdorf again reminds us of our Savior's promises:
Let us put down our stones.
Let us be kind.
Let us forgive.
Let us talk peacefully with each other.
Let the love of God fill our hearts.
"Let us do good unto all men."
The Savior promised: "Give, and it shall be given unto you; good measure, pressed down, and shaken together, and running over... For with the same measure that [you use] it shall be measured to you again."
Make the promise
Stand up today and promise to follow Christ's example of love. Don't cast the stones, wrap your arms around someone who is hurting. If you are hurting, find hope in Christ. There is no greater love then his. Use his example this Easter to make a difference in someone's life. I guarantee the greatest change you will make will be in your own heart.
This Easter give your heartache and mistakes to the Savior. Trust that he loves you and wants to help. Believe that he is strong enough to overcome death and strong enough to carry anything you give him. We cannot make it through this life alone. We need each other's love and compassion. We need the Savior to carry us home to our Father. Take the Savior's gift and begin your life journey home today, with him at your side.