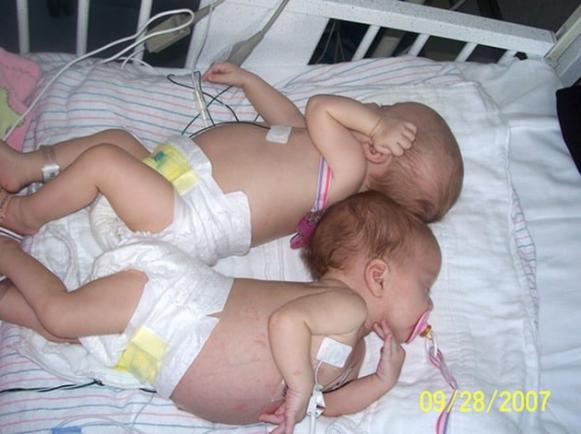 When twins Madeline and Isabella were born on July 4, 2007, they looked healthy and brought so much joy to their parents, Alissa and Michael Dunn. But two months later, the parents noticed that Madeline's stomach felt swollen. They took her to the doctor for a check-up but left with horrible news - Madeline had cancer. It was a rare kind she had been born with called Neuroblastoma. The parents were heartbroken, but then they got more awful news: Isabella had the cancer, too.
Dr. Jeffrey Taub of the Children's Hospital of Michigan concluded that Madeline passed the cancer to her sister when they were still fetuses. This is extremely rare, and it happened when their blood cells were still connected. The doctor told PEOPLE, "Since they're identical, her immune system wouldn't recognize them as being foreign."
The treatment
The doctors found that the twins' livers had been affected. The only solution would be to start chemotherapy and isolation treatment - not even their parents could touch them because of their weakened immune systems. After a while, the twins were able to be around each other during recovery.
The miracle
The frightened parents started to feel a little more optimistic when the girls started chemotherapy, and ten days before Christmas, they got a phone call from the doctors saying their girls were cancer free.
Alissa said, "It was the 14th of December, and the Christmas tree was lit. We had our parents over, and we were celebrating the season. We got that phone call that there was no evidence of disease. I remember hanging up the phone and just feeling like, 'Really? WOW!'"
Alissa and Michael are thrilled that their sweet babies are happy and healthy. They are now ten years old and doing great things. According to PEOPLE, "Alissa says Isabella is very caring and loving and Madeline is full of energy ... We celebrate every day that they wake up and they're healthy."
Their doctor developed a special bond with their friends and family and keeps a photo of the twins on his desk to remind him of their incredible story. Being an oncologist can't be easy, but Dr. Taub says it's worth it.
"Being an oncologist is a really stressful, challenging type of business," he says, "but when you have patients like Isabella and Madeline, that sort of reminds me why I went into this and the outcomes we can achieve."
The family gives credit to God for healing their little girls, and it truly is a miracle that they are healthy today.
This article was adapted and translated from the original, "Médico percebe barriga de uma das gêmeas crescendo estranhamente, quando examina a outra bebê descobre doença rara nas duas," which was originally published on familia.com.br.