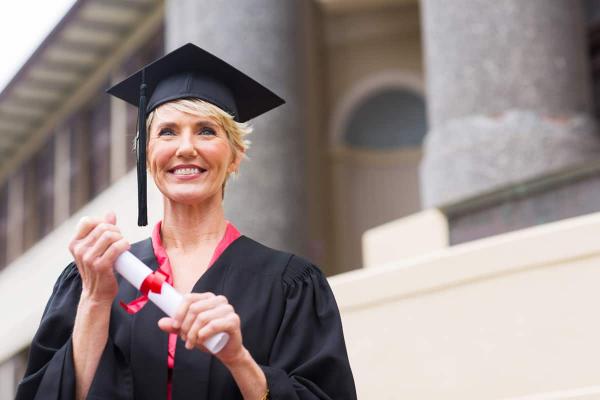 Mothers who have at least some college education are better equipped to help their children achieve their life goals. Jenet Jacob Erickson, a university teacher, told of her summer experience in a mountain village in Guatemala teaching health and sanitation to schoolchildren. It didn't take her long to realize the real need. She said, "To improve the health and wellbeing of a community, the education of children is helpful. But the education of mothers - those who inculcate values and practices into the hearts and minds of the next generation - is vital." (Jenet Jacob Erickson, "A Woman's education is not wasted in the home," Deseret News, Sept. 27, 2013)
We cannot fill the hearts and minds of children if we are not filled ourselves. A mother's education has a far reaching effect in the lives of her children. Following are reasons why it's so important. Testimonials are from mothers responding to my Facebook request.
1. Schools are not teaching important basics that matter to the overall education of our children.
If they are not learning it at school, where will they learn it? Peggy, a mother and grandmother wrote, "Well, let's see. Schools don't teach the American and world history I learned in school (and lived in my life), so I taught it to my sons and I am teaching it again to my grandkids. Schools don't teach grammar, so I teach it. Schools barely teach writing, let alone oration, so I teach it. Schools don't necessarily have kids read the classics, so I make sure they read them here so we can discuss them. Schools teach life skills, but I add to it: Cooking, sewing, setting a table, cleaning, laundry, gardening, etc."
Peggy went on to say that she graduated college with honors and has done post graduate studies. She has taught at universities and has had a successful business career; taking her children with her on occasion to see what she did. She wanted them to see, firsthand, some future career options for themselves. She said, "An uneducated mother hurts her children/grandchildren almost more than she hurts herself."
Grace wrote, "Nothing like a degree in English and a Masters in Literacy Education to help a mother figure out what her children are not being taught K-12. In the primary grades [my education] helped with everything from decoding to fluency. In secondary school, they had to be taught writing, spelling, rhetoric, literary analysis, and editing along with comprehension strategies for content area reading (especially science.)"
2. It brings security to the family
Karen wrote, "Getting an education has created a sense of security within the walls of our family. My course of study has taught me more about the anatomy of the body to facilitate health practices with my children. I am more equipped to take care of them without panic and racing to the emergency room, first. My children are now passing these health practices onto their children. Education is a beautiful thing!"
3. You may end up being the breadwinner for your family
Rebecca wrote, "Never in my life did I think I would be a working mother. Not only was I working, but I was forced to become the family breadwinner. My husband had an accident at work and became disabled. This left him and me both devastated and concerned. I had attended only one semester at a community college and was unsure how I would get a job. Fortunately for me the Lord knew what was coming and had a plan. I was hired as an 8th grade para-professional. This will sound silly, but that 8th grade education taught me more than just reading and writing. I was able to learn new strategies to help my children learn in each of their special learning needs. I also learned to appreciate the importance of a good education. I learned to manage my time and set up a schedule and do many other beneficial things for my family."
4. You set an example for your children
Susan wrote, "I have always stressed a good education to my children. I told them when they started college to never stop until you finish. Do not let a marriage or having children stop you because going back when you are raising a family of little ones or working full time is hard to do. The reason I stressed this was because I hadn't finished college yet. Currently, I am a senior majoring in Marriage and Family Professional. And I won't stop until I finish. My children are now grown and the corporate world changed... I realized now, all job applications are online and if future employers want a degree and you do not have one, the software filters will kick out your application and a human will never see it. The world has changed and now requires that college degree. It's that important!"
Marlene wrote, "Even though I was a stay-at-home mom, I've always sought educational opportunities for myself and my children. Because I had graduated from college, I could feel confident in encouraging my children to do the same. I began graduate school when our youngest two were in high school and they learned more self-sufficiency. I proudly displayed my A grades!"
5. You can help your family and others in ways you may never imagine until the need is there.
M'Lissa wrote, "The communication skills I have learned have greatly helped me communicate with my teenagers. Also, it expanded my views so that I could deal with hard family issues in sensitive ways without compromising what I believe."
Tonya wrote, "I never practiced my speech language pathology degree, but I've been able to help some friends recognize issues with their children that needed professional help that hadn't been noticed by annual checkups. I've been able to do simple therapies on my own children and friends' children to save oodles of moola, and it has helped me help my children learn how to read... So grateful for that background. I'm not sure how our family would've turned out without it!"
Keep on learning
Mothers who keep on learning and expanding their education will find it of value not only to themselves and their family, but to society as a whole. So many people benefit from an educated mother. Here are some suggestions when returning to school as an adult.