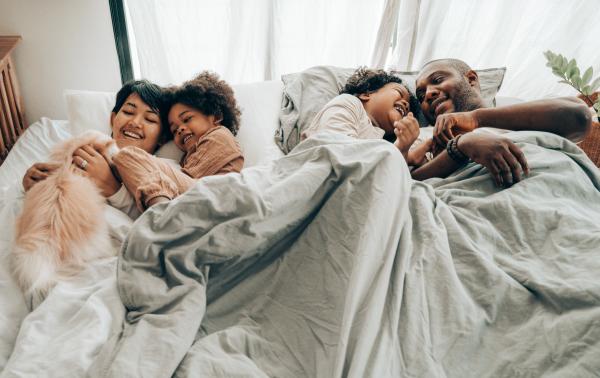 These products were selected by StackCommerce, which created these articles. The products are not endorsed by the FamilyToday editorial team. If you buy something through these links, FamilyToday may get a small share of revenue from your purchase.
You want the best for your family, and some things are totally in your control. You buy groceries with nutrition in mind, you switched to the less irritating laundry detergent to avoid itchy rashes, and you even swapped out that beloved pacifier for a lovey because you want what's best in the long run. Choices like that make things that are out of your control all the more difficult, like allergies that bug your kid and sleepless nights that leave everyone feeling grumpy and sluggish the next day. Actually, that last one is somewhat in your control, and the solution is high-quality and hypoallergenic bedding, like this four-piece luxury bamboo sheet set. It comes in several sizes and tons of colors to fit every member of your family.
The four-piece luxury bamboo sheet set is made of rayon from sustainable bamboo, woven for eco-friendly durability. The king-size set comes with a fitted sheet, a flat sheet, and two pillowcases so you and your partner can sleep soundly and comfortably all night long in a silky bed that feels like a vacation.
That sustainable bamboo fabric isn't just kind to the environment, it's also kind to you and your family. These luxury sheets offer moisture resistance to keep any dreamer warm and dry all night; even that sweaty sleeper in your family who might snuggle up in this twin-size set. You'll also rest better knowing that sweaty sleeper is staying healthy in the moisture-resistant sheets because they're antimicrobial. That means nasty bacteria and viruses won't linger around to cause additional problems. You'll still want to wash them regularly as you would any sheet set, but this luxury set won't be any more difficult on you because it's machine-washable and fade-resistant.
Some of the organisms that like to linger in your family's sheets can cause allergies that result in sleepless nights filled with mouth-breathing and nose-blowing. The four-piece luxury bamboo sheet set is hypoallergenic to kick that problem to the curb and ensure a better night of sleep.
Happy mornings with smiling faces around the breakfast table beat groggy, yawning, sniffling whines over pancakes any day. The path to happy mornings begins with quality sleep, uninterrupted by allergens, and moisture. The four-piece luxury bamboo sheet set can help with great deals for every bed in your household. Score 80 percent off of the twin set, 77 percent off of the full set, 76 percent off of the queen set, and 74 percent off of the king set. Might as well act on this deal now because you're definitely not going to sleep well now that you know about the bacteria and viruses that may linger in your non-antimicrobial old sheets.
4-Piece Luxury Bamboo Sheet Set (King) - $63.99
Image source: Pexels.com