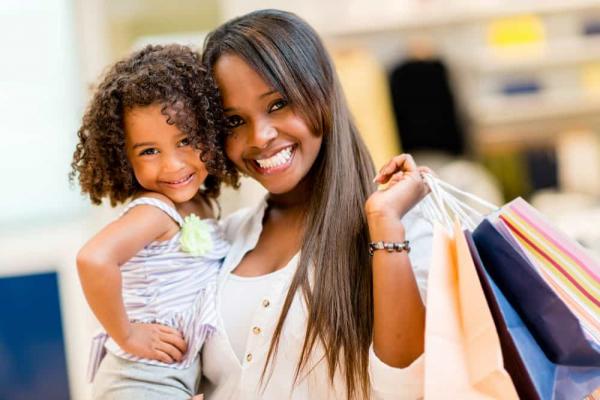 I like fashion. I like to wear what is trendy, and I like to shop. The one thing I like more than shopping for myself is shopping for my kids. I don't have to try anything on. I don't have to worry about the clothes making me look fat. All I have to do is find the right size and I know it will look adorable on my child. The only problem I have with buying clothes for my kids is the cost. It is hard to justify spending money on outfits when I know my kids are going to grow out of them in a matter of months. If clothes are worn for a year, I get excited - but that only happens if I buy the clothes big, letting my kids grow into them and then wear them until they no longer cover the body parts they were intended to.
So how does one stay on the cutting edge of fashion without going broke? Here are some things I do.
Buy used clothes
I am not talking about going to your local Good Will (although sometimes there are some great finds there). I'm talking about used clothing stores that pay for their items. There are brick and mortar stores like Kid-2-Kid and Once Upon a Child, and there are online sites like mylittleclothesline.com that sell gently used clothing (among other things). These companies pay people like you for children's used clothes and then sell the clothes in their stores. These stores need to make a profit, so they are only going to sell items that are popular at the moment. This means trendy, gently worn, usually brand name items - a score for the bargain shopper. Doubling the greatness of these companies is the fact that they will give you either cash or store credit for items you sell as you update your little munchkin's closet.
Join the email/mailing list
I always give my email address or sign up for mail flyers at stores where I love to shop. As a result, I never walk into those stores without coupons. Most stores send coupons out once a month. I keep them all in a nice little coupon organizer in my purse, so whenever I get the urge to shop for my little one, I know I will get a discount. There are very few items I pay full price for. Even just 10 percent off is still something. Most coupons work both in store and online. If a store does not have an item in the size or color you need, they probably have it online. In order to avoid paying more for an item because of the shipping fee, make sure to ask for a free shipping coupon at the cashier desk. If there isn't one available, most stores will ship to store for free or give you free shipping if you spend over a certain amount.
Buy "off season."
I will admit that I struggle with this. When I buy something, I usually can't wait for my kid to wear it! It is hard putting things away for future use, but if you can, it will save you a ton of money. Now that it is fall - almost winter - things like bathing suits, shorts and tank-tops are discounted beyond belief. Some stores will mark items down to just dollars so they can get things off their shelves. If you have the willpower to wait to use an item until next summer, you can have a whole wardrobe awaiting your child for a fraction of the price!
Give and accept hand-me-downs
When my friends and family first learned I was having twins, they all wanted to help in any way they could. Most of them helped by giving me their kids' outgrown clothes. I find that, when people give clothes to their friends, they usually only give the ones in the best condition. I happily accepted as many clothes as they wanted to give, then sorted them on my own and donated the ones I could not use. Not only were my kids well dressed, but it was fun for my friends to see their favorite items being used again on someone they knew. If you have a friend or family member who has children older or younger than your own, you can set up an exchange with them. Once your kids are done with an item, pass it along and let someone else enjoy it.
Shop clearance
This may seem like a no brainer, but it is how I save the most money. If I see a regular priced item that I love, I know that if I wait even just a month it will most likely be marked down. I shop the clearance racks diligently to see what is new, what has been sitting there for four months and what will most likely be marked down even more next week. Once I see a price I can accept, only then will I buy the item - and I usually have a coupon on top of the clearance price. It can take some sleuthing and patience, but it is worth it financially.