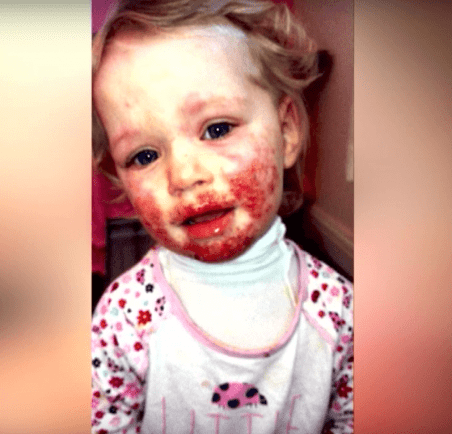 Right after her second birthday, Sienna Duffield started to develop a strange rash on her face, but it wasn't just like any other rash. The infection on Sienna's face was enough to make any parent go into panic mode.
The mystery rash
Sienna's mom, Savina French-Bell, immediately knew something was wrong, but she couldn't figure out what was causing her toddler's face to blister, bleed and peel. She took her daughter to see multiple doctors and tried treating the blistering with many different ointments and creams. Nothing worked to soothe the rash that was eating away Sienna's skin.
According to Faith It, "Sienna's face was a bloody mess - covered in itchy bumps and patches, painful blisters and scabbing from her relentless scratching."
Her clothes and sheets were always covered in blood from the mysterious rash. The many sores around her mouth eventually became too painful for Sienna to eat. She was hospitalized and had to be fed through an IV.
The cause of the horrible condition
One clue led to another, and the cause of the mysterious rash was finally revealed. Sienna was diagnosed with Herpes Simplex Virus 1, otherwise known as HSV-1. During her second birthday party, a family member who had the virus kissed Sienna. The virus quickly spread to Sienna, causing the eight-month-long rash.
There is currently no cure for this virus, but there are treatments. According to WebMD, "Medication can decrease the pain related to an outbreak and can shorten healing time."
This virus typically shows up in the form of cold sores, and a large portion of the population has it. According to the World Health Organization, "An estimated 3.7 billion people under age 50 (67%) have HSV-1 infection globally." If you suspect you or your child might have this virus, see a doctor immediately to get it treated.
Be careful when you kiss your babies
It might seem harmless and affectionate to kiss your baby, but be cautious when you do. Also, be aware of who else you are allowing to kiss your children. Luckily, Sienna's face is back to normal. According to Inside Edition, "[Sienna's mom] can only hope the virus won't return, she's sharing their story for other families who are dealing with the same infection to let them know there is hope."