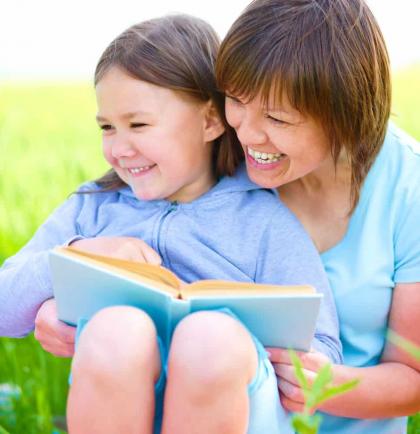 Learning to read is an important childhood milestone, like learning to walk and talk. Once your kids can read on their own, it's tempting to let your kids read to themselves. My advice? Keep reading!
Reading together can be entertaining and educational. Sometimes I choose books to expose my children to classics from my own childhood. Other times, we read a book with a message like accepting others or learning empathy. After surveying several of my friends and acquaintances, I've compiled a list of 10 great grade-school reads. Pick one up and start tonight.
Almost every parent recommended one of Roald Dahl's books. From "Charlie and the Chocolate Factory" to "James and the Giant Peach" and "The BFG," Dahl's books are universally enjoyed for their fantastic characters and imaginative plots. I think Quentin Blake's illustrations, featured in several of Dahl's works, add whimsy and interest to watchful listeners.
Here's one more author who has written several books children will enjoy. Start with "Beezus and Ramona" to get a taste for Cleary's writing. Boys might enjoy "Henry Huggins" or "The Mouse and the Motorcycle" more than the Ramona series, but generally Cleary's books, with their likeable characters and humor, will be enjoyed by both genders.
This book is perhaps the most well-known of C.S. Lewis's classic children's fantasy series. It's the second in the series, and one of the first books I read aloud to my children when they were old enough. The adventures of Peter, Edmund, Lucy and Susan in the land of Narnia will draw everyone in.
R.J. Palacio has written an instant classic with her modern book about a boy born with severe facial deformities. This poignant book follows August Pullman as he attends mainstream school for the first time as a 5th grader. Reading this book with older grade-schoolers will allow you to have meaningful discussions about acceptance, friendship, loyalty and love.
When Annie Richard's brother Jared dies suddenly, her life is changed. Lisa Graff writes about one girl's struggle to overcome fear and grief with the help of her community. Graff's book is touching and funny, allowing readers of all ages to experience a range of emotions as they watch Annie start to heal.
My Father's Dragon
Perfect for new readers, "My Father's Dragon" is the first book in a trilogy by Ruth Stiles Gannett. When Elmer Elevator runs away, he starts on a memorable adventure involving animals, a baby dragon and an island.
The Secret Garden
My mother always steered me toward the classics in my own reading, and this book by Frances Hodgson Burnett was one I read over and over. When Mary Lennox is unexpectedly orphaned in India, she is forced to move to her uncle's home on the moors in Yorkshire, England. She is very lonely until she discovers a secret garden and some new friends. My daughters thought this story was magical and couldn't wait to read a new chapter each night.
If you have a boy who is a reluctant reader, a story like this one, by Tom Angleberger, is very accessible. The books are funny, realistic, and read like graphic novels. There are several in the series and my son has enjoyed reading the books and making the origami characters which accompany each book.
Everyone who has read this series has a favorite. Mine is "Farmer Boy" because of all the delicious descriptions of food. Laura Ingalls Wilder's stories about her family's life on the American frontier are full of adventure, family relationships and excellent descriptions of what life was like for pioneers in the West. The first book is called "Little House In the Big Woods."
Mrs. Piggle-Wiggle
If you want books that are pure fun, try any from the Mrs. Piggle-Wiggle series. Written by Betty MacDonald, the books chronicle Mrs. Piggle-Wiggle's clever remedies for curing children of bad habits. They are silly and easy to read, as each chapter is a stand-alone story.
Bonus recommendations:
"Stuart Little" and "Charlotte's Web," by E.B. White
"Amelia Bedelia" by Peggy Parish
"The Tale of Despereaux" by Kate DiCamillo
"Tales of a Fourth Grade Nothing" by Judy Blume
"Harry Potter" by J.K. Rowling
"Frog and Toad" by Arnold Lobel
Don't give up on reading together as your child grows. Children enjoy bonding with their parents over books, and time spent together reading is time well spent.