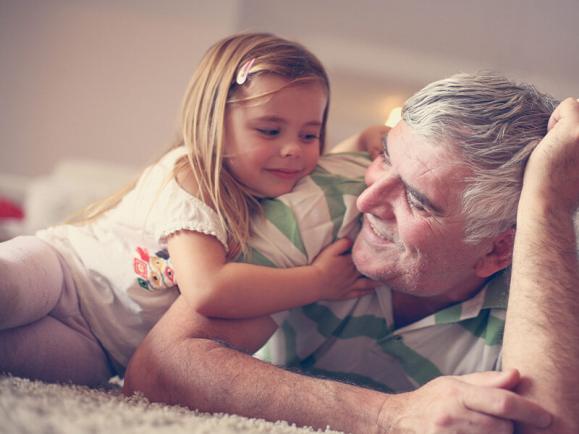 As with most holidays, there is also a fascinating history behind Grandparents Day that you may be familiar with or just completely unaware.
Why do we even celebrate it?
That's a no-brainer.
Grandparents are the very foundation on which a family grows. They provide us with so much love and knowledge throughout our lives. They are considered to be the greatest gift to our existence. They deserve far more than just one day for recognition but an argument for another time.
Whether they are biological or not, life can sometimes disconnect grandparents and their grandchildren. Grandparents Day is a time to mend these relationships, strengthen emotional bonds, and give them the respect and honor they deserve. 
We can sometimes forget the important people who guide us down a path of success or the sacrifices they made for our family throughout our lives. We need to be sure we take the time and effort to remind them that they are valued and are an important part of our lives. Grandparents are there when we need them the most and love to lend a helping hand whenever they can. We should be there for them when we can and one day out of the year is not asking for much. 
Today, over 70 million grandparents in the nation account for one-third of our population. That number is rising every year with the addition of 1.7 million new grandparents. That is a lot of "Back in my time" stories getting shared. That's also a lot of grandparents who may feel lonely or feel like they have become a burden to their families. 
Sadly it is currently estimated that 66 percent of grandparents have never celebrated Grandparents Day. While it's hard to pinpoint the causes, it's still essential to make an effort to cherish our grandparents because tomorrow is never promised. This year seems as good as ever to start a new family tradition. Maybe understanding the history of the day will inspire you to make more of an effort.
Let's explore its' history and travel back in time.
The history for Grandparents Day starts in West Virginia back in 1970. 
The grassroots campaign took eight years to become a proclamation.
The campaign to honor grandparents with a national observance was started back in 1970 by West Virginian grandmother Marian Lucille Herndon McQuade.
Marian and her husband Joseph L. McQuade had quite the family with 15 children, 43 grandchildren and ten great-grandchildren.
The McQuade's were married for 60 years, with Mr.McQuade passing in 2001 and Mrs.McQuade passing in 2008.
Marian was 91 when she passed away due to natural causes.
Her accomplishments never went unnoticed as the U.S. Postal Service issued a commemorative mailing envelope using her likeness in 1989, celebrating National Grandparents Day's tenth anniversary. Her hometown erected new state highway signs that displayed the town of Oak Hill, West Virginia, as the "Home of Marian McQuade, Founder of National Grandparents Day."
Her children and grandchildren continue to work to keep her legacy alive for which she would be very proud of. She knew the value of quality family time and she lived every day as a leader for her family. 
Her obituary gave the world even more insight into how truly blessed she felt with her life. When she was asked about being credited as the founder of Grandparents Day, she responded with the following.
"I am the luckiest person in the world. I have a wonderful and understanding husband, my children are all healthy and well, and my grandchildren and great-grandchildren brighten my days. And then I have my work promoting Grandparents Day, working with seniors and visiting the sick and lonely in hospitals and nursing homes. What more could I want?"
President Jimmy Carter proclaimed the holiday first in 1979.
After years of Mrs.McQuade working tirelessly to persuade businesses, local communities, churches, and political leaders, she reached her goal in 1979. President Carter chose the first Sunday after Labor Day as September represented the "autumn" years of life.
A call was made to Mrs.McQuade from the White House to share the good news. Carter.
The special day should not be commercialized.
If you thought Greeting card companies created Grandparents Day as just another marketing ploy, you were wrong.
Unlike many other national holidays celebrated with material gifts, Mrs.McQuade wanted families to connect and celebrate by spending the day together. It was the one day just to appreciate being in the company of family.
Grandparents already control nearly 75 percent of the wealth in the U.S., so they are less likely to be impressed with the more significant gifts. 
It's the small gestures that leave lasting impressions. Grandparents cherish a hand-written card or framed photo of your favorite time together forever, and they love to show off handmade gifts.
Here are a few ways to create memories instead of opting for gifts.
Bake a family recipe together

Make homemade cards

Interview your grandparents and discover family history
There are so many ways to celebrate the day without breaking the bank.
There are three purposes for Grandparents Day.
While the day, in general, is for both young and old, it serves 3 specific purposes, which are:
For families to honor the grandparents.

Educate children on the critical values that grandparents can share.

Give grandparents a dedicated day with their grandchildren.
Grandparents Day does not have an apostrophe like Mother's Day or Father's Day.
Historians think this may have been an oversight when President Carter proclaimed it. Mrs.McQuade believed that to be the best mistake because she didn't think the day belonged to just grandparents but to the whole family instead.
It has an official song.
Oh yeah, crank up the tunes because "A Song for Grandma and Grandpa" by Johnny Prill is the official song.
It is the only one in history.
It also has an official flower.
The forget-me-not flower carries a symbolic meaning and is the most appropriate flower for the special day. Through the years they have come to represent eternal love. The flowers have also been adopted in many Alzheimer's societies to represent memory loss which is a high-risk mental illness among grandparents.
Make a delightful bouquet that will put a smile on your grandparent's faces.
Next time you think Grandparents Day is just another fun National day, think again.
Mrs.McQuade may have passed but her efforts for Grandparents Day will help bring families closer together for years to come.
This year ask your kids how they want to show appreciation to their grandparents and encourage them to get creative.
Grandparents should be honored and thanked for the sacrifices they made to raise you, that is what Grandparents Day is all about. So whether it's a phone call or a homemade card, make sure your grandparents know how much you appreciate everything they have done for you.