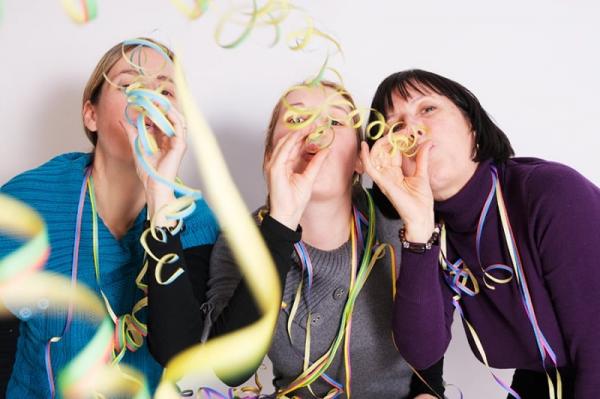 In our new, two-person family, my husband and I sometimes struggle to celebrate holidays in a way that works for both of us. When we have children, I imagine it will be even more of a challenge, considering we will be adding early bedtimes, short attention spans and an entirely new range of inclinations to the equation.
New Year's is no different, so that's why I'd like to share a few family-friendly ways that we celebrate. Our budding traditions are family-friendly, group activities that can be adapted to your family's preferences. These no-stress activities provide a way to bond and have fun together as the new year begins.
Year in review
Every year, my best friend's family pulls out a large roll of butcher paper. The family then makes "Best of / Worst of" lists for the year. Each person can make his own list of the most delightful and most challenging moments of the year, but as a family they brainstorm and reminisce about experiences they've had together over the last 12 months.
This kind of on-the-fly introspection intimidated my husband pretty badly when I suggested it, so we're starting a new tradition this year. For the next year, we will be writing down happy, memorable moments as they happen. We'll put these slips of paper in a jar, and at the end of next year, we'll read them together. If you have little children in your family, you can always use this method and help them write things. With each family member contributing, each family member will feel valued and included.
Traditional food & drink
While champagne tends to be the norm for New Year's, your celebrations don't have to be limited to bubbly alcohol. My family has always opted for sparkling cider, for instance. It's something the kids can enjoy as well. Serve it in the prettiest glasses you have and you'll never know the difference. Plus, it's a lot cheaper per bottle!
Black-eyed peas are a popular food in the South for New Year's Day celebrations, and since I'm from North Carolina and my husband is from Texas, this is an obvious choice. However, you can make any food you like. One friend recently told me that he makes caramel popcorn. It's a treat that he reserves for the holidays. He points out that having it more frequently makes it less special, so it's worth setting aside for a special time. Maybe you can help your children make cookies, peppermint bark or even Jell-O. Whatever it is, remember that the goal is a unique treat that your family will look forward to year after year, not only for the taste, but also for the togetherness.
Family-friendly parties
If your kids are too little to participate in late-night festivities, don't feel guilty about sending them to bed and celebrating with them on New Year's Day instead of New Year's Eve. If they are old enough, however, you can make them a part of age-appropriate activities. We love board games and card games at our house because there is such a variety of them that you are bound to find something that everyone will enjoy. This can be especially nice if you have teenagers. Consider offering to let your teenager or older child host a party for his or her friends at your house. With snacks, games and some space to call their own, you may be surprised how willing your teenager is to spend time in the safety of your home.
Just because Christmas is over doesn't mean that you have to stop enjoying meaningful time with your family. New Year's celebrations can be a great time to spend with loved ones, especially as you develop traditions and find ways to include everyone, young and old. Focusing on the positive things from the past year, making fun food, and throwing a quiet family celebration will make the switch from one year to another a low-stress time of bonding.