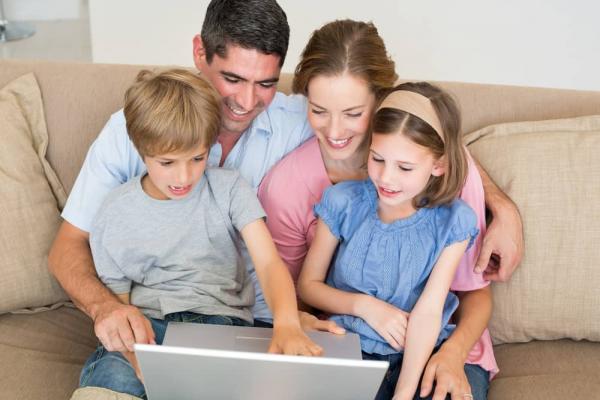 The kids are playing video games, Mom is busy on her tablet, and Dad can't put down his smartphone. Families today love "screen time," but often miss out on the fun that can be had together. In today's digital age, there are many incredible opportunities for families to learn, bond, and share new experiences together on the computer - without playing games.
Choose a few ideas from the list below and see what you and your family can discover together as you explore all that the Internet has to offer.
1. Explore your world
I recently introduced my children to Google Maps and they cannot get enough! With Google Maps, you can not only explore your neighborhood, but your community, state, country...and beyond. Teach your children about geography, navigation, climates, and cultures as you explore the world together. We were able to compare and contrast my daughter's elementary school with a primary school in Kenya, the snow of Antarctica with the snow-capped peak of the Matterhorn in Disneyland, and forests in Washington versus the rain forests of the Amazon.
You can also find many geographic live web cams online. My kids love the web cams from Times Square and the Statue of Liberty (found on earthcam.com) and the Shamu Cam. Do a search for free educational web cams, and see what you can discover!
2. Connect with your past
Who are your great-great grandparents? Where did your family originate? Use sites like ancestry.com, censusrecords.com, or familysearch.org to research your family history. What will you discover about the people who helped shape your family?
3. What's for dinner?
Use the Internet to search for new recipes. Divide up the meal and let each person in the family find a new recipe to try. Browse Pinterest, search food blogs, or look up that recipe you saw your favorite food TV personality make last week. Find your culinary inspiration and then spend the evening cooking (and eating!) your food finds.
4. Scavenger hunt
Go on an Internet scavenger hunt. Have each person in the family write a list of 10 objects people/items to find online. From Abe Lincoln to Bengal tigers, get your family looking for a variety of things. The catch? Players can't simply type the name of the object into a search engine. If you need to find a macaroni penguin, try searching various zoo sites. Browse the hardware store's site to find a scroll saw. Make it fun and challenging, and enjoy exploring a whole new range of sites!
5. Dance
OK...maybe dancing isn't your thing, but you and your family can discover a TON of music online. From mainstream music sites such as Pandora and Spotify to smaller independent artist websites, to your local radio station, the internet is buzzing with everything from Bach to Bieber.
6. Connect
Use Skype to talk or connect face to face with friends and family. Live video chat and computer to computer calls are free. My children love to visit with their grandparents, showing them pictures, magic tricks, and even reading them bedtime stories! A phone call is wonderful, but a face to face visit is priceless.
7. Listen to a story
Sit back, snuggle up, and listen to a story. Sites like Storyline Online and the "Stories" section of AOL Kidsoffer a good selection of children's books read aloud. Explore books in a new way, and help your child develop fluency as they listen to expressive and accurate reading.
8. Make a family fun bucket list
Use the Internet to explore your surrounding community and wider metropolitan area, searching for local attractions, parks, restaurants, and experiences you'd like to visit as a family. Check out the local water park, read reviews of the new fro-yo shop, and research which local playground has the best slides. As you research, let each person in the family select a set number of things to add to the list.
How will your family explore the internet? Have FUN as you connect with your children while discovering an array of opportunities, ideas, and family fun available online.