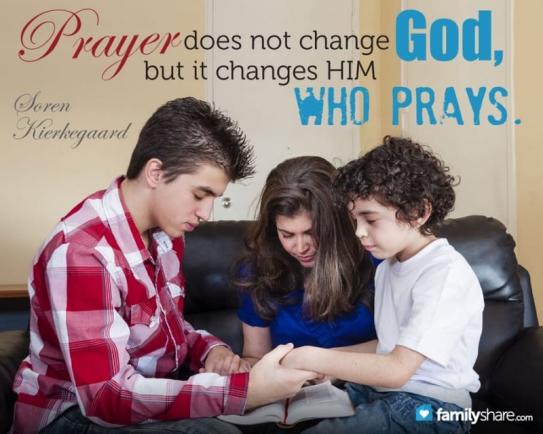 Family prayer is central to our home and everything we do. It is the first thing we do together every morning and the last thing we do together at night. It is what keeps us balanced, attentive to one another's needs and aligned with God. But it has not always been that way. Implementing family prayer took consistent effort and it was a challenge to make a plan that worked for our family. The first step to successful and consistent family prayer is to create a plan that everyone agrees on. Here are some suggestions that have worked for us.
Set a certain time every morning and evening for family prayer and stick to it
We have family prayer in the morning at 7 before my husband leaves for work. We have it in the evenings at 7:30 before our younger children go to bed. We also pray as a family over breakfast, lunch and dinner. Five times a day, we come together as a family and we thank God for everything he has given us. There are times when one of us cannot be with the family at the appointed time in the evening. On those days, if we can, we will call in and join the prayer over the phone. If we are unavailable to join in, then we say a silent prayer in our heart at the same time so that we are still praying together as a family, and those family members who are kneeling together at home are praying for the member who is away. This keeps a family unified, connected, and close as a family and close to God.
When praying as a family, pray in a circle on your knees
When praying in a circle on your knees, not only do you show humility to God, but you are creating a tight-knit bond with family. It allows you to draw strength from one another and stand firm on whatever trials you are facing.
Pray for each other
There is no sweeter sound than when I hear my children pray for one another. When you teach your children to pray for one another and when they hear you praying for them, love in your family will increase and fill your home to a greater capacity than you have ever before experienced. You will be amazed at the love that will surround your home and your children. The spirit of contention will dwindle, and your family will know greater joy and peace.
Take turns
It is important that everyone get the opportunity to say a prayer throughout the week. In our home, there are seven of us. We are all assigned a day of the week where we get to say the evening family prayer. My husband and I take turns saying the morning family prayer and we all take turns praying over the meals. Our children started saying prayers from the time they could talk. My husband or I would say one word at a time, and our child would repeat the words. Not only does taking turns help children feel valued as part of the family, but it also gives them important opportunities to speak to God.
Understand the importance
Sometimes the greatest part of a plan is recognizing why we do it. Remembering why family prayer is important is what keeps my family continually doing it. In today's world, there are so many difficulties that we are walking into when we leave our homes each day. But if in our family prayer, we have asked God for his help and his protection, we will have his strength added to our own to fight the battles of the day. We will have his spirit to warn us of danger, to guide us from darkness and to comfort us when lost. Family prayer is one of the greatest weapons we can give our children when they walk out our doors and into the world. It is an extra shield of protection we are giving our family to help them withstand trials and temptations. One of the greatest things we can give our children is a shield of protection when we cannot be there to protect them our self.
Family prayer should be an important part of every family's daily life. It may not be easy to implement, but with consistent efforts, it can be an added blessing to every home and the people residing in it. If a family makes family prayer a priority, not only will they see an increase of love and peace in their home, but they will recognize God's spirit as a constant companion as he walks daily within the walls of their home.