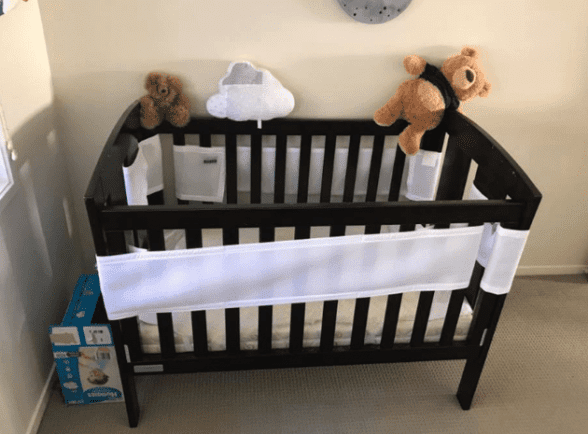 A father from Australia was vacuuming his baby's room when he discovered an unpleasant surprise: a snake near his son's crib.
Horrified to see such a dangerous animal near his son's bed, the father immediately contacted a company that specializes in catching venomous animals - the Snake Hunters of Sunshine Coast. He reported he had found a deadly brown snake - one of the most dangerous snakes in the world. The specialists rushed over.
Luckily, it was not as dangerous as they thought
Upon arrival at the site, the specialists identified the snake as a mildly venomous yellow-faced whipsnake. Although this species is not typically deadly, a sting could be very painful, especially for a baby.
Adult whipsnakes can reach up to one meter in length.
When the Snake Hunters posted a photo of the baby room on their company Facebook Page, they challenged viewers to try spotting the hard-to-find snake in the picture. See if you can find it:
Don't feel bad if you can't spot it - it's pretty well hidden. The snake is hiding to the left of the crib, on the floor, between the box of diapers and the wall.
Similar cases
The picture is more than a fun snake version of Where's Waldo - it's an example of how easily dangers can hide in your children's rooms.
Similar snake cases are not as rare as some people would expect.
One Florida boy told his dad he was hearing noises in their attic and believed it was a snake. The dad discounted the son's suspicions at first, thinking the noise was just caused by rats. But when he went up to check it out, he discovered a boa constrictor had been living in the same house as his young kids for years.
A few years ago, an Australian mom woke up at night to the sound of her cat hissing. She looked over at where her daughter was sleeping and was horrified to find a boa constrictor wrapping around and biting her child. She yanked the two apart and called 911. An ambulance rushed them both to the hospital, where her daughter was treated for her injuries.
What to do when encountering a snake
The Professional Wildlife Removal Directory gives several pieces of advice on what to do if you find a snake in or near your home:
If you find a snake in your yard, the best thing to do is leave it alone and wait for it to leave (keeping your children indoors meanwhile, of course).

For snakes found inside garages and homes, use a long push broom to sweep away the snake at a safe distance.

If you identify the snake as dangerous or are afraid to interact with it, hire a professional to come and remove it for you.
Remember to teach your kids proper safety around wild animals, and keep your family safe by always being attentive and aware of potential dangers.
_This article has been adapted and translated from the original "Pai encontra cobra escondida próximo ao berço de seu filho. Você consegue ver a cobra na imagem?" which was originally published on familia.com.br.