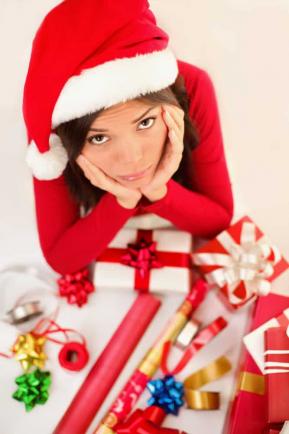 As the holiday season approaches, I become apprehensive. The pressure of organizing for the holidays can get overwhelming. At times, I do tend to forget what the holiday season is all about. In addition, the holidays remind me of my family members who have passed. Though it has been years since their departure, it feels as if it was just yesterday. I can honestly say, between the pressure and the loss of my loved ones, I do get depressed. But I find ways to gain the strength to enjoy the holidays with my family and friends and be grateful for the blessings I have in life.
Holiday depression stems from various reasons - death of a family member, sudden illness, loss of employment, insufficient funds, and loneliness. It is difficult to pull yourself out of depression especially if you have no support around you. Perhaps you live in a different state than your family and have few (if any) friends where you are. Or you are dealing with a financial burden that disables your ability to buy gifts for your children, and you are too embarrassed to share that information with family. These are reasons to feel depressed. But holidays are not only about exchanging gifts or spending money; it's about your faith in your God and celebrating him.
Falling into depression is easy, but getting out of it is hard. However, you can find a way to bring a sprinkle of happiness into your life by doing the following:
Spend time with others
Don't isolate yourself completely. There is nothing wrong with spending time alone. Nevertheless, do not allow isolation to consume you. If you have family who lives close by, spend time with them. Perhaps you can invite a few friends out for dinner or have them over to your place for a low-key holiday dinner. If not, ask if your community is having a holiday dinner for the homeless. You can volunteer and bring joy to those less unfortunate. And while doing something so noble, you will feel a sense of happiness.
Take care of you
If you are the go-to person for the holiday season, try to understand you cannot please everyone. Everyone will have their opinions and demands. But since you are the person in charge, take a moment to absorb all suggestions and do what you feel is best. The holiday pressures should not infringe on your happiness.
Do something different
If you have children, think about spending the holiday season with just your children and spouse. Take an affordable trip out-of-town or create an itinerary of things to do in your local area. For example, instead of staying home for Thanksgiving, take your family out to your favorite restaurant followed by a movie. This is something my family and I enjoy doing at times.
Depression can quickly put a damper on your holiday spirit. But you can try to turn those feelings around by doing something special for yourself and others.