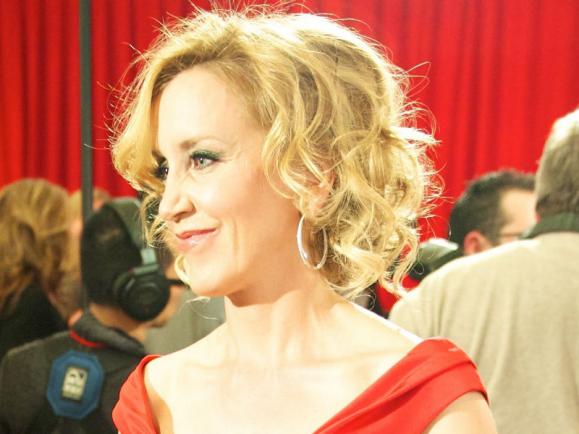 Actress Felicity Huffman was recently sentenced to 14 days in prison for her role in the massive college admissions scandal now nicknamed "Operation Varsity Blues." The actress was accused of spending $15,000 to have her daughter's SAT scores boosted. Huffman was also the first of more than 30 parents charged in the scam to be sentenced.
Huffman, who was surrounded by about a dozen loved ones in court, expressed 'deep shame,' in her decisions, apologizing to the judge, her daughters and her husband, actor William H. Macy for her actions.
"I am deeply ashamed of what I have done," she said. "At the end of the day I had a choice to make. I could have said, 'no.'"
In a written statement released to the media, Huffman also apologized to "the students who work hard every day to get into college, and to their parents who make tremendous sacrifices supporting their children."
"There are no excuses or justification for my actions…Period," Huffman said.
As part of her sentence, Huffman will have to serve one year of probation, pay a $30,000 fine and perform 250 hours of community service.
At least 50 people are alleged to have been part of the conspiracy many of whom have plead guilty or agreed to plead guilty, according to USA Today. This included parents, coaches, test administrator and conspirators.
Prosecutors said William "Rick" Singer, the mastermind behind the whole operation either facilitated cheating on standardized tests or bribed college coaches to give students an advantage in the admission process. Huffman and actress Lori Loughlin were two of the most high-profile parents who were caught up in the scandal.
Singer controlled the two firms involved in the bribery scheme, Key Worldwide Foundation and The Edge College & Career Network. He ultimately pled guilty and cooperated with the Federal Bureau of Investigation which included gathering incriminating evidence against co-conspirators. He admitted unethically facilitating college admission for children in more than 750 families.
Five years ago, an internal investigation at ULCA uncovered key elements of the scandal and alluded to some serious corruption in the college admission process. On May 13, 2014, the mother of a high school student wanted to appeal the university's decision to reject her daughter's admission as a water polo recruit. Her daughter had never even played the sport.
According to the investigation, the mother stated that she was 'still willing to pay.' When she was asked about what she was referring, the mother expressed that she understood from Singer that she was expected to donate $100,000 to the program for the admission of her daughter through athletics.
Prior to Huffman's sentencing, reports were projecting that the prosecution was going to go after the actress in a big way. At first, they wanted a minimum of 4 months, but prosecutors pulled back and the time requested was reduced. The message they wanted to send was that those who considered participating in similar crimes would get time.
Now that Huffman has been sentenced to 14 days in prison, attention has turned to where she'll spend her time behind bars CNN reports.
Huffman's attorney requested that the actress be allowed to spend her prison sentence at a federal correctional institute in Dublin, California. Ultimately, the Bureau of Prisons has the final say on where Huffman will serve her time. She will report to the bureau on October 25.
TMZ reported that Huffman may be trying to get an early start at her court-ordered community service. The actress was spotted visiting a rehabilitation center that helps addicted, homeless youth and teens in the Los Angeles area. Her daughter was also spotted at the same facility, both carrying supplies and treats.
It is not clear if those efforts may be in vain as it is still so early in the sentencing process. The Probation Department overseeing her case likely has not issued a court-approved list of places where she can do her community service just yet.
Now that Huffman has been sentenced, the media has really turned their attention to actress Lori Loughlin. Sources say that Loughlin is on edge concerning her own case and regrets not taking the plea deal.
"Lori has kept a close eye on Felicity throughout the case and after hearing her 14-day sentence, she's been incredibly panicked," a source told Entertainment Tonight. "She can't help thinking, if Felicity received real prison time, what could that mean for her?"
The source also added: "Lori didn't believe Felicity should have pleaded guilty but now watching her situation play out, she's been in fear of what's to come for her. Right now, her friends fear the prosecution wants to make an example out of her, not only for the crime she's been accused of, but her not guilty plea."
Loughlin is really beginning to feel the heat. If she is found guilty, she will go to jail and if another deal is offered to her, she will also go to jail, sources say.
Only time will tell what the future will look like for both actresses.