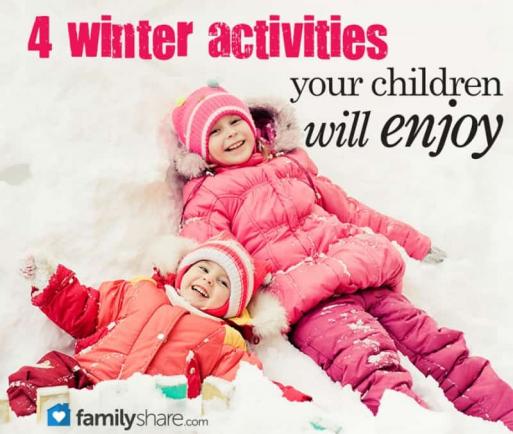 Winter is a beautiful time of year, but it is also the culprit of children's boredom. The weather is too cold to let children run loose at a park, and they can only build so many snowmen before the magic disappears. To entertain your children, add a little variety and prevent them from driving you crazy, here are four activities for your children to try this winter.
1. Snow paint
Snow is the perfect canvas for a beautiful masterpiece. With just a few basic items such as water bottles, food coloring and water, you can create snow paint. Fill a spray bottle with water and add several drops of food coloring. Get the water to the color you desire and by simply spraying it on the snow, you can create a beautiful snow painting. This is a fun activity for children of any age, and it is an excellent way to help them ignite their creativity.
2. Bake
Sometimes, the harsh winter weather can prevent your children from spending time outdoors. If they are stuck inside all day, start pulling out your mixing bowls and spend time in the kitchen. Breads, cakes, cookies, pies and other treats are excellent winter options. Here is a fun and easy cake recipe from Spoonful for you to make with your children's help.
2 1/3 cups all-purpose flour
1 1/2 teaspoons ground ginger
1 teaspoon cinnamon
3/4 teaspoon baking soda
1/2 teaspoon salt
1/2 cup butter, melted
1/3 cup brown sugar
1 cup molasses
1 egg
3/4 cup hot water
Whipped cream (optional)
Heat the oven to 325 degrees and grease and flour a 9-inch square baking pan.
In a large mixing bowl, combine the flour, ginger, cinnamon, baking soda and salt. In a separate bowl, stir together the butter, brown sugar, molasses, egg and water. Add this mixture to the dry ingredients and beat with an electric mixer on medium speed for about a minute.
Pour the batter into the pan and bake for about 40 minutes, until a toothpick inserted in the center comes out clean. Serve with whipped cream, if desired.
3. Colorful icicles
If you're looking for a fun winter activity that is unique and definitely cool, create a bunch of colorful icicles in your yard. This project is more labor intensive and time consuming than many other winter activities, but the end result is worth it. The instructions for this fun activity can be found here.
4. Create an indoor winter wonderland
If, once again, you are stuck inside, bring the winter wonderland indoors. Teach your children how to create snowflakes out of scrap paper, and hang them around your home. You can even cover three different-sized boxes in white paper or paint and create a snowman in your home. You can make igloos out of blankets or giant boxes. The options are endless.
Just because the weather is cold, and it is hard to spend too much time outside, there are still plenty of activities to keep your children entertained, and help you keep your sanity. Put your creativity to the test and step outside of the box to enjoy a wonderful winter season.