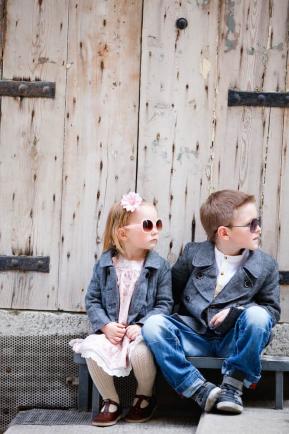 Summer is over, kids are used to the school routine and cooler weather is upon us. It's time to break out the pants, sweaters and your wallet. Dressing kids can be an expensive affair. In my family, due to age and gender differences, I can't often pass clothes down. I've had to get creative to make our wardrobe needs match our clothing budget. Here are five tips to save money and keep the kids warm this fall.
Add a long-sleeved layer
A quick and easy way for your kids to keep wearing their favorite short-sleeved shirts is to add a layer underneath them. Buy two-three plain long-sleeved shirts. These shirts can often be worn more than once in between washes because they are mostly hidden. Consignment stores and stock-up sales are a good place to find simple long-sleeved shirts.
Choose tights or leggings
Little girls often like to wear skirts and dresses year-round, even if the weather is cold and wet. Adding thick tights or leggings under skirts means your little girl can twirl and play in her summer skirts in autumn without having cold legs. Children's stores have great options for tights and leggings, often on sale and in multi-pair packages.
Buy over time
Back-to-school sales often start in late July, but I try not to buy too much then. Sometimes my kids grow before it gets cold enough for pants and long sleeves, leaving me with new clothes that are already too small. If this has happened to you, shop smart, choosing items during the back-to-school sales that will fit for a long time. Then wait. I shop a few times throughout fall, buying as needed.
Consider coupons
Advertisements and rewards programs can be annoying, but loyal shoppers are rewarded with good coupons and advance notice of promotions. If you exercise self-control and don't buy things you don't need, coupons can really help stretch your budget.
Jeans are a basic most children wear. I like to buy jeans on sale and often save my rewards dollars to get an extra discount. Become coupon savvy and learn the sale patterns of your favorite stores to get the best deals.
Find a hand-me-down friend
When my only son outgrows his clothes, they are often handed down to his cousin who is exactly one year younger. I enjoy giving my daughter's clothes to my friend who has four girls of her own. If you have friends or relatives with older children, receiving their hand-me-downs often means an instant wardrobe for your child.
Keeping kids in clothes and shoes sometimes seems like a losing battle. Save yourself some cash by following these tips and then see how cute your kids look in their frugal fall fashions.