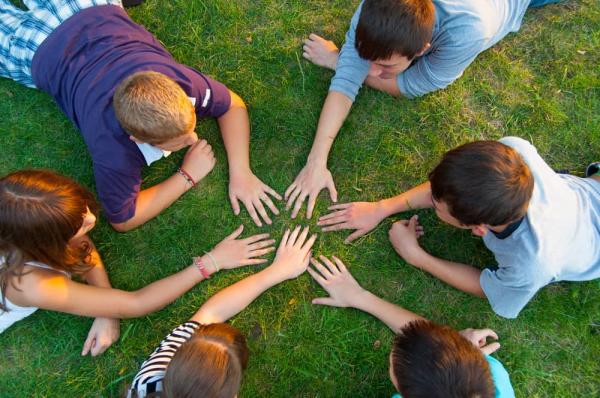 When kids complain of boredom, sometimes it really does seem as if there's nothing to do. But a little brainstorming can lead to a lot of cool ideas. Here are a few activities that will prepare you for those "mom, I'm bo-o-o-r-r-red" bomb droppers.
Enjoy the great outdoors
Go fishing
Cook and eat anything you catch.
Go camping
even for only one night, in a tent, camper, or just under the stars!
Go hiking or enjoy long walks in nature
Collect rocks or wildflowers to dry. Take photographs.
Take a picnic lunch or dinner to a park - even on a weeknight
Go casual with paper plates or even fancy with china and table cloths.
Swim in a lake or river
Float on inner tubes.
Put up a slip-and-slide mat in your yard
There are many backyard water activities that can keep kids cool and pass the time. Run through the sprinklers. Have a water balloon fight.
Go biking
Go for a trail ride or ride downtown to get ice cream instead of taking the car.
See local attractions
Visit a botanical garden, zoo or animal sanctuary.
Go ice blocking
Find a grassy hill and slide down it on a block of ice. This is a fun way to go "sledding" in the summer.
Get Active with sports
For example, have a family tennis tournament. Go golfing. Play a game or just hit a bucket of balls and putt on the green. Try Frisbee golf or miniature golf. Take everyone horseback riding. Visit the YMCA, recreation center or gym and workout together. Try a yoga-for-kids class.
Get in the water
Go water skiing or rent a jet ski, canoe or kayak.
Stay indoors (if necessary)
On a super hot day, go bowling. Go ice skating or visit a roller skating rink.
Attend a baseball game
You don't need to have a professional baseball team in your area. Baseball is fun to watch at any level.
Enjoy yummy food
Bake some tasty treats
Kids love kneading dough. Bake bread, rolls, cinnamon buns, cupcakes or breadsticks. Get creative and try new recipes and fancy toppings.
Throw a pizza party
Everyone chooses toppings and makes their own favorite masterpiece.
Cool off with frozen treats
Make homemade ice cream. Have an ice cream sundae or root beer float party. Make Popcicles in freezer molds. Prepare smoothies and serve in fancy glasses with fruit skewers or umbrella straws.
Visit a farmer's market
Let your kids pick out dinner. Or, find a working farm where you can see animals, buy fresh milk or cheese or pick your own berries or apples.
Try your hand at gardening
Plant a garden in your yard or in pots or even on your window sill, just to watch the seeds sprout. Don't worry if it doesn't turn out perfectly.
Play fun games
Become a kid again
Visit an arcade, amusement park or water park.
Organize outdoor games
Have a sack race with old pillow cases. Take a large sheet outside and have everyone grab a side and lift it up and down like a parachute. Build an obstacle course in your yard with buckets, ropes, boards and boxes to jump over and crawl under. Time how long it takes to run through your course.
Think inside the box
Get large cardboard boxes from an appliance store. Build forts or medieval castles and cut out interesting shapes.
Get out and ride
Use chalk and draw a road lines on your driveway for scooters, roller skates and bikes. Include stop signs, traffic lights and even stores to visit.
Night games during the day
Play old fashioned street games like sharks and minnows, capture the flag, car lot, kick the can and hide and seek. Kids love it when parents play too.
Enjoy some "unplugged" fun
See if your family can go TV free for a week. Play charades, checkers, card games and chess instead.
Start creative craft projects
Garage sales
Hold a garage sale or attend one and look for treasures.
Try a new hairstyle
It can grow out before school starts if you don't like it. Or just experiment with curlers, braids and buns.
Try your hand at carpentry
Build something with scrap wood using hammers, nails and paint.
Create puppets with socks and buttons
Have a puppet show.
Make a pinata
You can make one with paper Mache. Stuff it with treats and then smash it.
Christmas in July
Begin making handmade gifts for Christmas.
Learn a new skill
Learn to knit or crochet at your local yarn store. Build a simple cardboard loom and try weaving.
Do artwork
Paint or draw self-portraits or portraits of your family members or pets. Finger paint on butcher paper outdoors with younger children.
Create personalized dinnerware
Visit a ceramics shop and create hand printed plates.
Creative jewelry
Buy some beads and make necklaces, or use painted macaroni and string.
Get out the summer reading list
Start a book club with kids in your neighborhood.
Sometimes all it takes is a single idea to get your children (and yourself) out of the doldrums and enjoying summer vacation. Just pick an activity from the list and get them started on something. Watch with amazement as their imaginations take over.