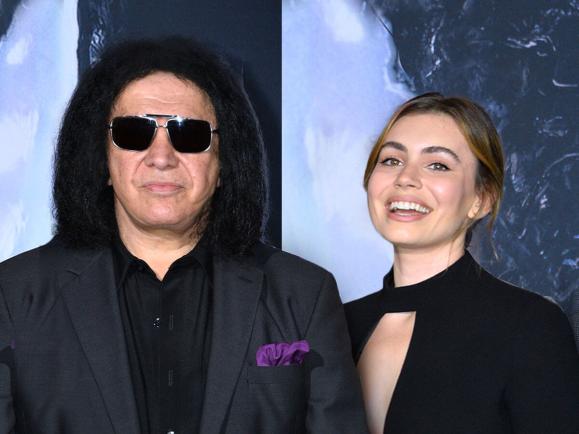 Gene Simmons shared a sweet moment with his daughter, Sophie Simmons, at her recent wedding reception. The father-daughter duo shared a dance together to Elvis Presley's "Can't Help Falling in Love" for Sophie's first dance at her wedding. The KISS singer shared a few sweet words with his daughter as they showed off their dancing skills.
Sophie Simmons tied the knot with her long-time boyfriend, James Henderson, who have been together since 2014 when he was her server at a restaurant. The pair held an intimate wedding ceremony in Malibu in her mother, Shannon Tweed-Simmons, backyard. "The view truly can't be beat and I love that it is intimate and family-oriented," she told People. "James and I never wanted a big wedding so this is the perfect space for us." After their small wedding ceremony, they moved the celebrations to a 1920's inspired spot called "Delilah" where Sophie and her brother used to sing jazz. "The ceremony is tiny because, originally, we wanted it to be just family," explained Sophie. "But then we thought about all of the friends we love, and since there's not a lot of room in my mom's backyard where the ceremony is taking place, we decided to do a big party."
On top of Sophie and her father's sweet first dance together, she also surprised Gene with an original song written by herself, which she titled "Daddy's Girl." She explained her reasoning to People by saying, "Since I was little, I've written my parents songs for gifts. I wrote him a Father's Day song years ago, and he hasn't stopped playing it. So, I was like, 'All right, it's time for a new song.'" Gene and Shannon wrote in a statement about their daughter's wedding, saying, "We couldn't be prouder of our daughter. James is a solid young man, and Sophie can do anything she puts her mind to. We wish them a lifetime of love and happiness. If they are even half as happy as we are, they will last long."