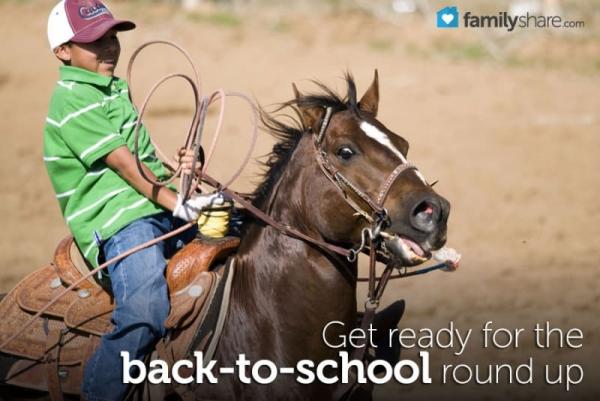 Summer is winding down and with it the long days of fun and play. Getting your family back on a school year routine may seem as daunting as breaking wild broncos. The following tried and true tips can help you get your outfit running smoothly so all can enjoy the new school year.
Corral the papers
With the start of every school year, it seems the paperwork multiplies. To keep from losing items that need to be filled out and signed, designate a basket, folder or somewhere for each child to place the papers you need to see. Set aside a specific time each day to go through them, and then place in the correct child's school bag.
For those papers you need to keep for reference, create a 3 ring binder for each child. Place dividers in it so you can have a section for school, sports, scouts, etc. In our family, each child had a different color binder. This made it easy to locate each child's papers.
Check in with the boss
Our family found that having a scheduling meeting every Sunday night was extremely helpful. We had a large desktop calendar where we recorded everyone's activities. Each child's schedule was written in the same color ink as her notebook. Each child was expected to bring his planner or calendar to this meeting, and then each person took turns saying what she had for that week. This alleviated "surprises" and allowed us to coordinate where, when and how everyone needed to be places.
Rustle up the grub
Mealtime during the school year can be chaotic, to say the least. Preparation is the key to helping everyone be fed nutritious meals.
If you don't seem to have time for making breakfast, take time on the weekend to prepare and then freeze items that can then be prepared quickly by each family member. Muffins, pancakes and waffles can all be made ahead of time, frozen and then pulled out as needed. Also cereal, fruit, yogurt and toast with peanut butter make an easy and healthy breakfast. It is an important meal that can help your children through the day. Don't let them skip it.
Lunches can also become time-consuming in the morning. By cutting up veggies and fruit over the weekend or the night before and portioning them into baggies, you or your children can quickly assemble a lunch. One friend even made and froze sandwiches over the weekend, so she didn't have to try and make those in the morning. Be sure to enlist your children in this prep work.
When family members seem to need to be so many places in the afternoon and evening, it may seem easiest to just grab something from the takeout window. Again, by knowing your schedule you can plan your dinner menu accordingly. Some families find it works best to have some dinners made and frozen, then they simply pull out a meal in the morning to defrost. Crock pots can be your best friend on those crazy days. Prepare the ingredients the night before put them all in the crock pot that morning and turn it on. When you come home dinner will be ready.
The right duds
Getting dressed in the morning can be a tortuous experience. Either your child cannot decide what he wants to wear, or she wants to wear the favorite shirt that is two sizes too small. To rid your family of the stress of inappropriate clothes be sure to clean out closets and drawers before school starts. If it is not there, the battle is avoided.
When it comes to the indecision in the morning, use these strategies. One, you can help your child lay out the clothes for the next day the night before. Be sure to include shoes, socks and hair accessories. Or you can purchase a hanging shoe tower that has five or more partitions. Label these by days of the week and have your child help select clothes for each day on Sunday afternoon. Again, include socks and underclothing, so there is not a mad dash in the morning.
Wrangle the gear
Nothing can be more frustrating than trying to get out the door with your child saying they can't find (fill in the blank). Make sure everything has a place: Shoes are in the closet or a basket. Backpacks and bags on hooks, shelves or wherever you find is convenient. Have each child pack the backpack the night before and check for homework, signed forms, projects and gym clothes.
When it comes to extra-curricular activities, if there is equipment or books that are needed, create a bag for each one and designate a place for it to be stored, as well. To encourage your children to put things in place, you might want to establish an award system. Make a calendar and each time they put things away correctly put a sticker on that day. After collecting so many stickers, they get a bigger treat. You want to make it second nature.
Once you put these tips in place your outfit will be running smoothly, so you can enjoy the new school year and watch your children learn and grow.