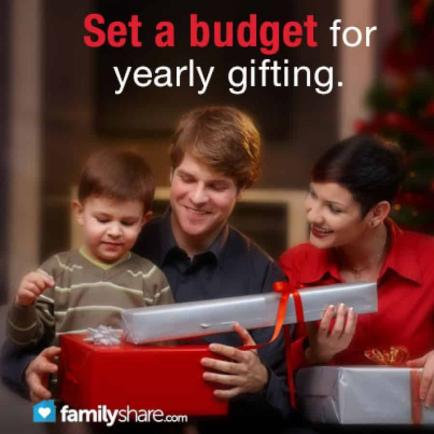 Creating your gift giving budget
Gift giving within families can become quite an expensive proposition. Even in small families, budgeting for Birthdays, Christmas, and other occasions, could break the bank! I have devised a plan for those who need to budget their limited funds for gift giving throughout the year. The first part of the plan is to set up a budget. The second part of this plan will follow up with tips, ideas and helps for gift giving, that will keep you well within a doable budget.
Set a budget for yearly gifting and chart it out. Determine the amount you have to spend, particular members you want to gift, and the occasions you would like to recognize. Using Chart 1 (see picture on the bottom) as an example of how to budget, insert your own information on the customizable and printable Chart 2.
List the names of persons you would like to gift on the column to the left.

List your predetermined yearly budget limits next to each name.

List the events across the top that you would want to recognize.

Divide your budgeted amount between the event(s) that you choose to recognize, per individual.

Amounts you list under each event that you would recognize might vary. You may choose to spend a little more money for your parent's gifts than you spend for your siblings. You may wish to spend a little more Christmas and Birthdays, than you will for graduations or other occasions. You set the budget that you can live with and stick to it.