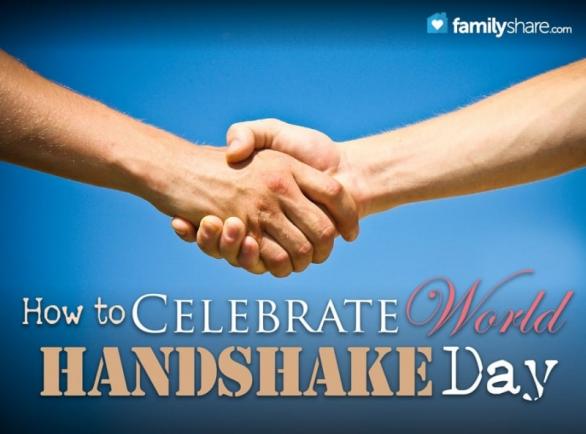 A handshake is a sign of good will. There are people all over the world that are in need of a helping hand. They may live in poverty or, perhaps, have lost much due to a natural disaster. June 21 is World Handshake Day. This is a day when we can gather our family, put our hands together and help those around the world in need. Below are five service projects you and your family can complete that won't take much but it will make a difference.
1. Humanitarian Kits
In many third world countries, people are left with very little. Even a toothbrush is a luxury to some. To help celebrate World Handshake Day, create humanitarian kits for individuals who are in need of the basics. You can find many guidelines online that will specify the exact items to include and even where you can send the kits. Create these kits together and as you do, discuss the recipients of the packages and just how much they need your help.
2. School Kits
There are children around the world who don't have any school supplies to aid them in their education. They don't even have a pencil to help them learn to write or a children's book to read. Make school kits for children to aid them in their education. Once again, you can find information about how to build these kits and where to send them online.
3. Make blankets or pillowcases
Find a variety of material and create pillowcases and blankets for the less fortunate. Sewing a pillowcase can take very little time and can be completed in just a matter of minutes. You can even create fleece blankets and let any older children cut and tie the border of the blanket. You can give these items to homeless individuals, hospitals or send them overseas to anyone you know who may be in need.
4. Volunteer
Helping individuals in your own community is just as important as helping those who live thousands of miles away. Gather your children and volunteer at a homeless shelter or a soup kitchen. Visit the elderly or help clean up a neighbor's yard. World Handshake Day is the perfect opportunity to teach your children the true meaning of service and how important it is to help others. There are opportunities everywhere you look to serve no matter the age of your child.
5. Write thank-you notes
Let your children show their creative sides and design thank-you cards for servicemen. Let your children draw pictures or write letters and thank those in uniform for all they are doing. Those who are out serving will experience hard and difficult challenges and a little pick-me-up can go a long way. Plus, you children will enjoy being creative and making something special for another individual.
World Handshake Day is an excellent time to teach your children how to serve. You can teach them that there are individuals scattered across this planet that have very little and could use our help. By doing something small, you and your family truly can make all the difference.