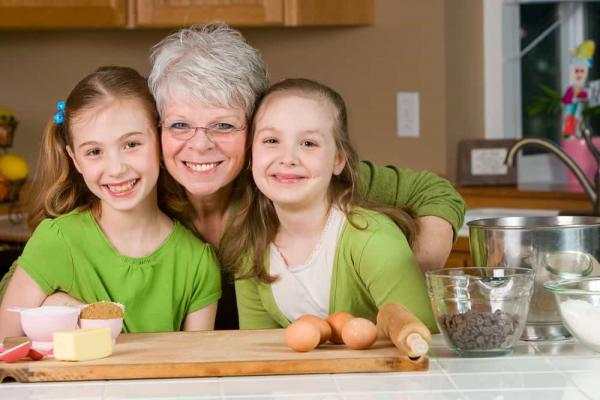 It sounds so fun - shopping for grandkids. You can spoil them all you want, and you can be practical or not, as you choose. So why is it so hard to think of the perfect gift?
Before you set off for the store, here are a few basic guidelines to keep in mind.
Don't buy something that will require extra work or special commitment, such as a trip, a pet, or a big project, without permission from the parents.

Don't overwhelm with a huge number of gifts or expensive things. You shouldn't attempt to buy their affection.

Try to make all the children in the family feel equally cared about - if you buy gifts for one child's birthday, you should buy for the others in the family, too.

Buying clothing for older grandchildren is a tricky proposition. Don't create an awkward situation by buying them something they may not like, and then feel obligated to wear to please you.
Here are some great gift ideas:
For young grandchildren
Wooden toys like train sets (such as the Brio type) are loved and will last and last, and they're not just for boys. The tracks can be put together in a variety of ways for great creative play.

Large-piece puzzles, shape sorters and nesting boxes made of durable materials teach hand-eye coordination - and, if you happen to live nearby, can be a fun thing to do together to help build your relationship.

A wagon is fun, both to ride in and to pull around. Something like this to get kids outside in active play is often a great idea.
For middle years grandchildren
inexpensive digital camera

binoculars

An umbrella of their own

Legos or other construction set

Art supplies

Card or board games

Sleds or scooters

Harmonica

Microscope
For older grandchildren
Camping supplies such as a sleeping bag or hiking pack

Musical instruments or books of music

Headphones (oddly, they are always needed)

Sports equipment

A nice pen

Scented lotion

Movie tickets

Gift cards and money

Magazine subscription
A gift choice that will last for years is a book. Whether your grandchild is still a baby or has kids of his or her own, a book is a great choice. Why not add to the family's Dr. Seuss library, or find a book listed as a winner of the Caldecott or Newberry medal. Older kids may like a book about their favorite sport or other interest, or a biography of someone who has been a hero in their life.
Get to know your grandchildren - the more you know about their likes and interests, the easier it will be to choose a gift. Hopefully, the fact that you took the time to think of them, rather than just spending money on them, will bring you closer.