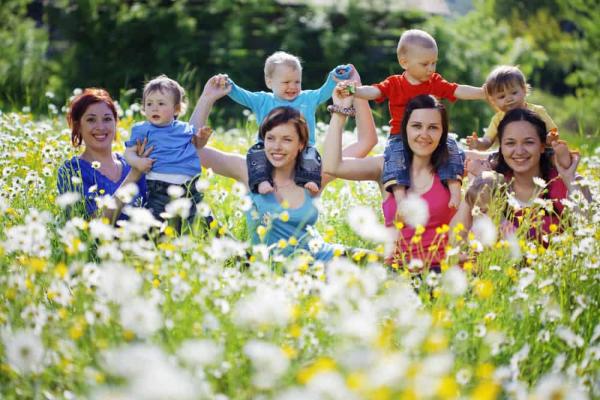 Motherhood is a unique stage of life. As a mother, I've felt simultaneously busy and lonely. Sometimes life with kids forces friendships to the bottom of your priority list. Moms need friends, too. Don't let your friendships disappear just because you've got kids. Read on for five ways to make friends.
Ask questions and listen
When you're with other moms, get to know them by asking questions, listening and being friendly and open. Soon you'll find people you connect with. If you're always talking about yourself, or too shy or distracted to engage, you'll miss opportunities to meet new friends. I've found friends at the park, sports practices, through other friends, at church and at my children's schools. Often I've had to initiate the first introductions, but soon the conversation flows both ways.
Try something new
I was recently invited to go paint pottery with a group of moms from my daughter's school. We'd never done anything social without our daughters, so I was a little nervous. I ended up spending an enjoyable evening doing something new while making better friends with mothers I see often at school.
If you're really interested in making friends, you may have to get outside your comfort zone. Take a class at the gym, volunteer for the PTA, sign up for a class at a community center and learn to introduce yourself to people.
Be supportive
You will have to be a good friend to have good friends. Everyone knows one person who only talks about herself and all her problems. Don't be that person. I've made friends with moms as we've watched each other's children and exchanged dinners. I have a good friend I haven't lived near in a decade, but I always know I can call her if I need a listening ear. If you are a caring, compassionate person, you can be a great friend.
Grab lunch
Moms don't always have time to socialize so getting together for lunch is a great option to connect. Take the kids to a restaurant with a play structure, sneak in a quick lunch out while the kids are still in school, meet at the park for lunch al fresco or invite a few moms over for a potluck lunch feast at your house.
When my husband was in graduate school in Michigan, weekly lunches with a group of moms was the highlight of everyone's week. It was total chaos as we tried to feed babies and keep toddlers from stealing toys, but the friendships I developed over yummy salads and homemade bread are some of the most dear to me.
Girls' night out
Date night doesn't always have to be with your significant other. For single and attached moms, girls' night out is a great way to leave the stress of motherhood and work behind. Go out for dinner, see a movie, try something new (like painting pottery), attend a play or have a game night. Don't be afraid to plan events. Often, people want to get together but don't have the motivation to be in charge. If you would like to get to know some new friends, create opportunities.
As you go about making friends, don't discount friendships with single women or women who are not your same age. I enjoy having friends in their 20s and friends in their 60s. While having a supportive group of friends who understand motherhood and parenting is helpful, you'll be missing out on meaningful relationships and priceless friendships if you limit yourself to people just like you.
Mothers worry about their children's friendships and work to teach their kids to be good friends. Now apply that know-how in your own life and go make some new friends.