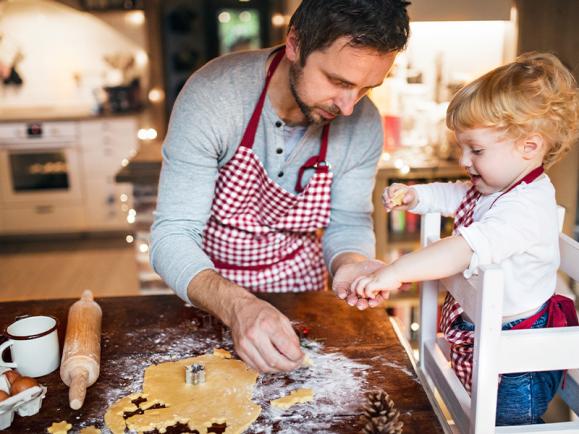 If you ask me what my favorite day of the year is, I won't say my birthday. I won't say the first day of summer. I won't even say Christmas. 
I'll say Christmas Eve. 
Christmas Eve is when all the traditions happen in my family. December 24th is jam-packed with snowball fights, messy cookies, and Christmas pajamas from a poorly costumed Santa Claus who sounds an awful lot like Dad. I look forward to all of it.  
When I was 16, the entire extended family on my mom's side stayed with us for Christmas. It was fun to share my family's traditions with them, and everything was running smoothly—at first.  
It was getting late and kids were sprawled in the living room wearing their new Transformers and Hello Kitty footie pajamas. I asked my mom when we were going to watch the movie, The Nativity Story, which had been a tradition we shared since the movie had come out over a decade before. 
"Em," she said, "there's just not enough time to watch it this year."
I cried that night, and I was confused as to why. 
It was just a movie, after all. And I had seen it many times. But it wasn't just a movie—it was a tradition that had been pushed aside. Only then did I realize how important even the smallest tradition was to me.
In similar ways, newlywed couples may find they have to negotiate adjustments in the holiday traditions they are used to, and spouses can find distress in the differences that come with their new situation. Because family traditions are deeply connected with individual and family identity, traditions can be difficult to compromise. Researcher Ria Smit explained that traditions give a sense of belonging to the family, create a connection to family history, and establish strong family boundaries.
If you are having to negotiate Christmas traditions, here are some practices that can help you avoid contention and build unity during your first holiday season together.
Talk about it in advance
A lot of miscommunication can be avoided if clear expectations are set before the holiday comes, tradition happens, and the chances of disappointment are high. This is true with holiday traditions as well as any important rituals you may have grown up with, such as dinner time routines, birthdays, extended family gatherings, and so on. 
Complete the most important parts of traditions
If you grew up with a complex or extensive tradition, consider completing only the essential parts of it. 
On Christmas Eve every year, my family puts together what we call "A night in Bethlehem," which means we "eat what Jesus would have eaten." In what is possibly my favorite tradition, we fill our large coffee table with a variety of dates & nuts, cheese & flatbreads, fish & grapes. We turn all of the lights off in the house, and the only light we have comes from the three candles placed amongst the food, and we sit around the coffee table, on the floor, and eat with our fingers. At the end of the meal, we all dress up and reenact the story of the birth of Christ from Luke 2. 
And while I think it's fun to have all of the complexities of the tradition, for me, it really comes down to a sacred feeling I feel with my family as we read Luke 2. That's the essential part of the tradition, and when there's just not enough time or resources, a reading of Luke 2 is sufficient. 
For kids, though, it could be hard to give up a favorite tradition. If your holiday needs to be simplified down, consider writing down all of the Christmas traditions your family enjoys, then have each child pick one tradition or one part of the tradition to complete that year. That way, they have a part in the decision-making process. 
Split holidays 
If your new family is going to be traveling to each other's parents' homes, splitting holidays is something you'll want to consider. You can spend Christmas with one family one year, and the other family the next year. That way, you aren't spread too thin between each other's families, and a lot of unneeded stress will be eliminated. 
If you do end up splitting Christmases, don't forget to establish meaningful traditions you can do every year in your own family, whether you currently have children or not. 
Create meaningful and simple traditions
Within your young family, try to create new traditions that are meaningful to you as a family. Honestly, a tradition is unlikely to be effective or to stick if it feels forced. Is there a family history story that could be associated with a tradition? Or maybe a favorite holiday picture book from your spouse's childhood that could be meaningfully tied to a new tradition? 
Whatever it is, try to make these holiday activities meaningful and unique to your family. An easy way to do this is to start simple. You can embellish and add along the way, but keeping the tradition simple at first will help you stay true to its core meaning. 
Be open to change
Being open to change is the most important thing you can do. As you are open with each other, you'll be able to create memories and traditions that can be cherished for the rest of your lives. 
It's okay if your current family is different than the family you grew up in. Your current family has different experiences, personalities, and needs; and because of that, your traditions will be different. 
16-year-old me cried that Christmas years ago, but looking back, I can now see traditions established that year that are precious to me; and now it's hard to imagine Christmas Eve without lip sync battles, Boyz II Men's Silent Night, and mahjong on the kitchen table.